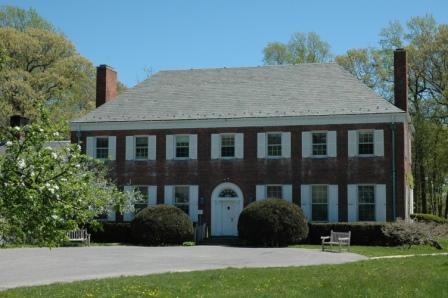 News Release Date:
October 20, 2011
The National Park has exercised a contract option with BlueScope, Construction Inc. of Kansas City, Missouri and Ronkonkoma, NY to begin phase II of the exterior rehabilitation project of the Old Orchard home at Sagamore Hill NHS.Work on the building will begin in the next couple of weeks.
The first phase of exterior rehabilitation project began last December and included the historic rehabilitation of the building's windows, doors and shutters, and painting of these surfaces and the trim. New energy efficient and UV protected storm windows were also installed throughout the building. In addition, a new exterior stairway to the basement utility room was constructed to replace the failing one.
The $435,000 phase II project will entail cleaning and re-pointing of the building's brick facade and chimneys; repairing and replacing copper gutters and downspouts as well as the underground drainage system, including installing new sub-surface dry-wells to collect the water.
The Old Orchard home, built in 1938 by Theodore Roosevelt Jr. on a four acre parcel within the family's historic fruit orchard, was his family's home until his wife Eleanor's death in 1960.Today the Old Orchard home hosts the Theodore Roosevelt Museum at Old Orchard as well as the park's administrative headquarters.
The Theodore Roosevelt Museum at Old Orchard will remain open during construction.At various stages in the project, work will necessitate temporary closures of building entrances and/or walkways.Safety zones will be set-up around the building to protect visitors, park staff and contractors. The public is asked to follow designated walkways and to obey all safety instructions and procedures while visiting the building.
The Theodore Roosevelt Museum at Old Orchard is open Wednesday Through Sunday 10:00AM to 5:00PM daily.