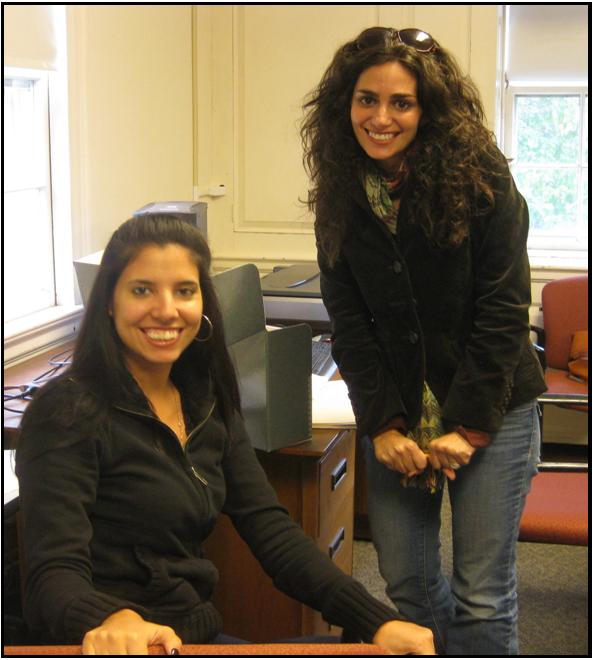 News Release Date:
January 22, 2011
Since August 2010, the work oftwo museum assistants Sarah Curley and Jacqueline Billig, has greatly benefitted Sagamore Hill National Historic Site's archives and the needs of future researchers. These talented women, who are sponsored by Dickinson State University in North Dakota, have been working on site at the park, scanning primary source documents related to Theodore Roosevelt's life and legacy. The resulting digitized copies of Theodore Roosevelt's writings will be available for researchers on the Internet. The hope is that the final product will be similar to the Lincoln, Washington and Jefferson papers available on the Library of Congress website.
The bulk of the Roosevelt papers exist in two repositories: the Library of Congress and the Houghton Library at Harvard University. Other items are held by the six National Park Service sites connected to Theodore Roosevelt: the Theodore Roosevelt Birthplace in New York City, the Theodore Roosevelt Inaugural Site, Sagamore Hill National Historic Site, Theodore Roosevelt Island in Washington, DC, Theodore Roosevelt National Park, and Mount Rushmore. Sagamore Hill National Historic Site Museum Technician Mark Koziol has been the project lead at Sagamore Hill and is very pleased with the work they have completed so far.
Jacqueline Billig is a teaching artist, educator and lifelong learner. She holds a Bachelor of Arts in Elementary Education from the State University of New York at New Paltz with a major in Psychology. She recalls in vivid detail her fourth grade field trip to Sagamore Hill Jackie's curiosity about the past and love of history enticed her to apply for the digitization assistant position. Sarah Curley is a true artist at heart. She holds a Bachelor of Arts in English from the University of Massachusetts at Amherst and has a true appreciation and passion for the arts and history. She found the position to be a genuinely remarkable opportunity both professionally and personally. Additionally, Jackie and Sarah have a new found appreciation for the National Park Service. They were surprised to see the amount of time, hard work and dedication that goes into a National Park Service operation. Sarah plans to begin giving tours of the Theodore Roosevelt Home as a volunteer with the hopes of one day landing a park ranger position with the National Park Service.
For more information on the project, please contact the Theodore Roosevelt Center at Dickinson State University at http://www.theodorerooseveltcenter.org.