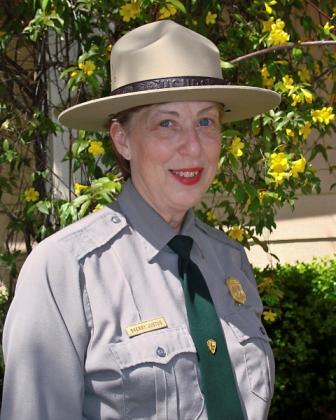 News Release Date:
March 23, 2010
Oyster Bay, NY: Sagamore Hill National Historic Site is pleased to announce the appointment of Sherry Justusas the new Chief of Interpretation, Visitor Services and Natural Resources at the site. Justus, a twenty year veteran of the National Park Service, competed nationally for this position.
Sagamore Hill is the home of 26th US President Theodore Roosevelt, and a unit of the National Park Service. The operation and management of the site is conducted by four divisions under the Superintendent which include Cultural Resources; Administration; Interpretation, Visitor Services and Natural Resources; and Maintenance. 
Justus will manage a staff of four full time employees, 10 seasonal employees and 30 volunteers who provide visitors services, tours of the Roosevelt home, offer special programs and events, conduct outreach to schools and other community organizations as well as manage the site's natural resource program. In 2009 more than 53,000 people visited the site, including some 5,000 school children. 
Justus stated, "I am honored to have been chosen for this position and very excited to get started. I am looking forward to working at one of the premiere National Park Service sites to advance our shared goals of excellence in visitor services and interpretation and the preservation of significant natural resources."
Justus began her career in the National Park Service as a front line Ranger at Edison National Historic Site and Statue of Liberty National Monument, achieving the position of Supervisory Park Ranger for Interpretation at Lyndon B. Johnson National Historical Park in Texas. She has worked in a variety of other management positions at Lyndon B. Johnson National Historical Park, including Interpretive Specialist, Public Affairs Specialist and Integrated Resources Program Manager (for both natural and cultural resources). 
 "We are pleased to appoint this skilled and talented professional to this critical management position at Sagamore Hill," said Superintendent Tom Ross, "Sherry brings a wealth of experience from her varied management background and having worked at another National Park Service Presidential site. Her experience and perspective will be a great addition to our team." Justus will assume her new position at the end of April.