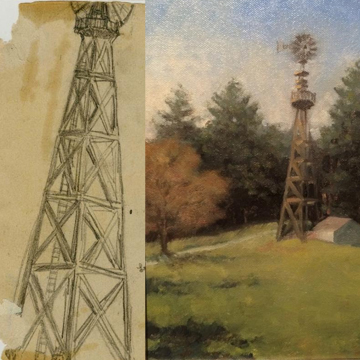 News Release Date:
September 8, 2016
Contact: Susan Sarna, 516-922-4788
Oyster Bay, NY - On Friday, September 23, 2016 Sagamore Hill National Historic Site will open an exhibition at the Old Orchard Museum titled, Historic Landscape through Modern Eyes: Re-envisioning Theodore Roosevelt's Sagamore Hill. The show features the artwork of previous participants in the juried Teaching Studios of Art Plein Air Competition juxtaposed with historic landscapes from Sagamore Hill's museum collection. The works will be on view through January 15, 2017. 
Plein Air is a style of painting or drawing where the artist works entirely outdoors, capturing the natural light and scenery as viewed. This method of art production contrasts with working in a studio or from a photograph, where light and objects may be manipulated. 
The Teaching Studios of Art is an art school devoted to teaching traditional techniques to artists of all ages and skill levels on the North Shore of Long Island. The school holds a two day competition each year where 25 plein air painters and draftsmen capture the natural beauty of the North Shore landscape in traditional media to be juried by esteemed artists. Historic Landscape through Modern Eyes features artwork in a variety of media from each of the four years the competition has been held at Sagamore Hill. Media Contact: