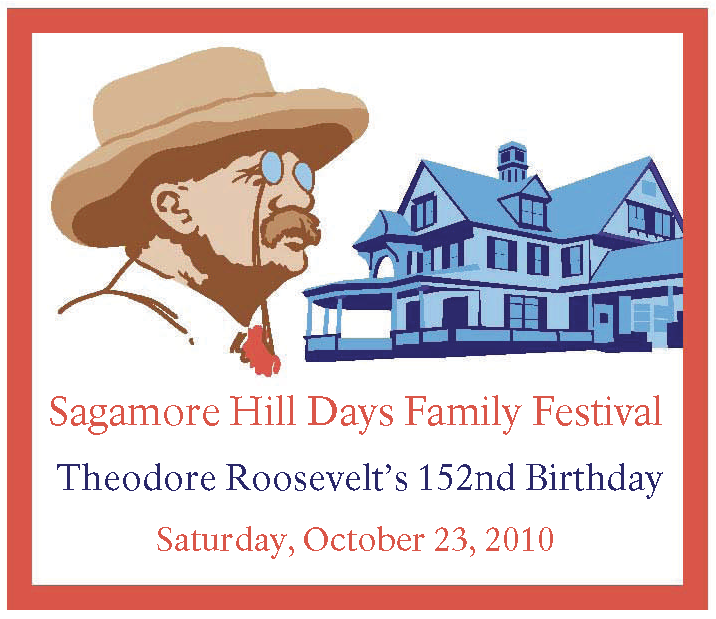 News Release Date:
October 5, 2010
On Saturday, October 23, 2010,Sagamore Hill National Historic Site will host a traditional Fall Family Festival from 11am to 4 pm. The festival will celebrate Sagamore Hill's agricultural history as well as Theodore Roosevelt's 152nd birthday! Activities will include old fashioned games and crafts for kids, farming skillsdemonstrations, exhibits, music, pony rides and an animal petting area, food vendors and more. The rain date for the festival will be Sunday, October 24th.
The day's events will include Theodore Roosevelt as portrayed by James Foote, traditional American music from Theodore Roosevelt's era performed by the Sagamore Hill Band, and a ranger led Point-to-Point Walksimilar to the ones TR designed for his own children. Demonstrations will include a blacksmith, a beekeeper and interactive children's activities provided by Hallockville Museum Farm. There will also be dairy cow demonstration presented by Suffolk County Farm & Education Center of the Cornell Cooperative Extension, and sheep shearing provided by Long Island Livestock Company.
Traditional American fare such as hamburgers, hot dogs and popcorn will be available for purchaseon the site or you may bring your own picnic. In addition,farm fresh fruits, vegetables and cider provided by Madura Farms can also be purchased to take home.
Visitors will be provided opportunitiesto tour the Roosevelt home and to view the exhibits at the Theodore Roosevelt Museum at Old Orchard as well as walk the grounds and Nature Trail. In celebration of Theodore Roosevelt's birthday, all of the events includingadmission to the Roosevelt home are FREE (with the exception of the pony rides and petting area).
For more information call 516-922-4788 or go to our website for more information at www.nps.gov/sahi. Be sure to follow us on twitter for late breaking updates at https://twitter.com/SagamoreHillNHS