Sagamore Hill Day Family Festival Set for October 20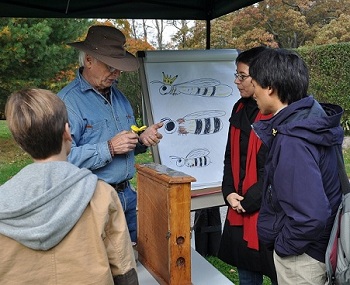 News Release Date:
October 11, 2012
On Saturday, October 20, 2012, Sagamore Hill National Historic Site will host a traditional Fall Family Festival from 11am to 4pm. The festival will celebrate Sagamore Hill's agricultural history as well as Theodore Roosevelt's 154th birthday. Activities will include old fashioned games and crafts for children, the Banjo Rascals (popular strolling musicians), a farm animal area including sheep, pigs and a cow, beekeeping presentations, sheep shearing demonstrations, native live animal displays, a presentation of period farm tools (circa 1885-1918), park ranger walks to learn about the historic Theodore Roosevelt working farm, Theodore Roosevelt as portrayed by James Foote, naturalist-guided nature and beach walks and more. In addition, kids can take a turn "milking" an artificial cow. The Friends of Sagamore Hill will be on hand to sell freshly pressed cider. Food service of traditional American fare--hamburgers, hot dogs and popcorn--will be available for purchase or you may bring your own picnic. This event is rain or shine.
Sagamore Hill National Historic Site, located at 12 Sagamore Hill Road, Oyster Bay, New York, is a unit of the National Park Service. The site was established by Congress in 1962 to preserve and interpret the structures, landscape, collections and other cultural resources associated with Theodore Roosevelt's home in Oyster Bay, New York, and to ensure that future generations understand and appreciate the life and legacy of Theodore Roosevelt, his family and the significant events associated with him.
NOTE: The Roosevelt Home was closed to the public for a two- to three-year period beginning December 5, 2011 due to a major rehabilitation of the home. However, the Visitor Center, Theodore Roosevelt Museum at Old Orchard and the grounds will continue to be open and free interpretive programs will be offered. For further information, visit our website at www.nps.gov/sahi, or call 516-922-4788. Be sure to follow us on twitter for updates at http://twitter.com/SagamoreHillNHS and on Facebook at http://www.facebook.com/pages/Sagamore-Hill-National-Historic-Site/127271867334480