sagamore hill announces 2012 memorial day weekend activities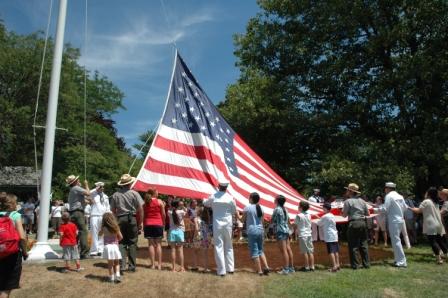 News Release Date:
May 18, 2012
Sagamore Hill National Historic Site invites the public to commemorate Memorial Day 2012 with a two day celebration May 26-27. Patriotic and family oriented music and Ranger talks will be offered along with the official opening of two new interpretive exhibit facilities and the launch of a new children's program to honor those who gave so much for our nation and celebrate the unofficial kick-off to the summer visitor season.
On Saturday, May 26 a Ribbon Cutting Ceremony will be held at 1pm to officially open the historic Farm Shed and Chicken House interpretive exhibit areas. The buildings were used extensively when Sagamore Hill was a working farm during the Roosevelt period.The Farm Shed was renovated with an exhibit of historic photos of Sagamore Hill as a working farm and also doubles as a "three season classroom space" with moveable bench seating, a screen and projector for programming for the public. The Chicken House has been transformed with "window box exhibits" and a newly designed store room exhibit.The project was funded in part by $3,500.00 in donationsraised by the the Friends of Sagamore Hill, A Chapter of the Theodore Roosevelt Association, which raises funds, recruits volunteers and advocates for the site.
Also on Saturday, a new self-guided walk entitled "A Children's Guide to Sagamore Hill with Jack the Dog" will debut. This free program offers children and families a fun and informative way to experience the Roosevelt farm while getting exercise and enjoying the outdoors.Park visitors interested in participating in either, or both of these activities should stop by the park Visitor Center for more information.
On Sunday May 27th at 2:00pm, the Freeport Community Band, which has been pleasing Long Island audiences since 1921, will conduct a special performance consisting of patriotic music, including marches and popular American standards, on the front porch of Theodore Roosevelt's Home.This is a free event with no reservations required. Attendees are encouraged to bring lawn chairs and blankets.
Also on Sunday, a Ranger Talk about the Roosevelt Family and their Sacrifices during the First World War will be offered at 11AM and 1PM. Visitors may also participate in historical children's games and will have the opportunity to meet "Theodore Roosevelt", as performed by Jim Foote, from 11AM-4PM.
Announcing Sagamore Hill National Historic Site's Summer Schedule:Beginning Memorial Day weekend, Sagamore Hill will be open seven days per week. We remind visitors that the Theodore Roosevelt home is temporarily closed due to a complete rehabilitation. We encourage visitors to experience other attractions on the site including the Theodore Roosevelt Museum at Old Orchard and the site's nature trail. Ranger programs are offered daily.The grounds of Sagamore Hill are open year round from sunrise to sunset.
For further information, visit our website at www.nps.gov/sahi, or call 516-922-4788. Be sure to follow us onTwitter for updates at https://twitter.com/SagamoreHillNHS and on Facebook at https://www.facebook.com/pages/Sagamore-Hill-National-Historic-Site/127271867334480
Last updated: February 26, 2015