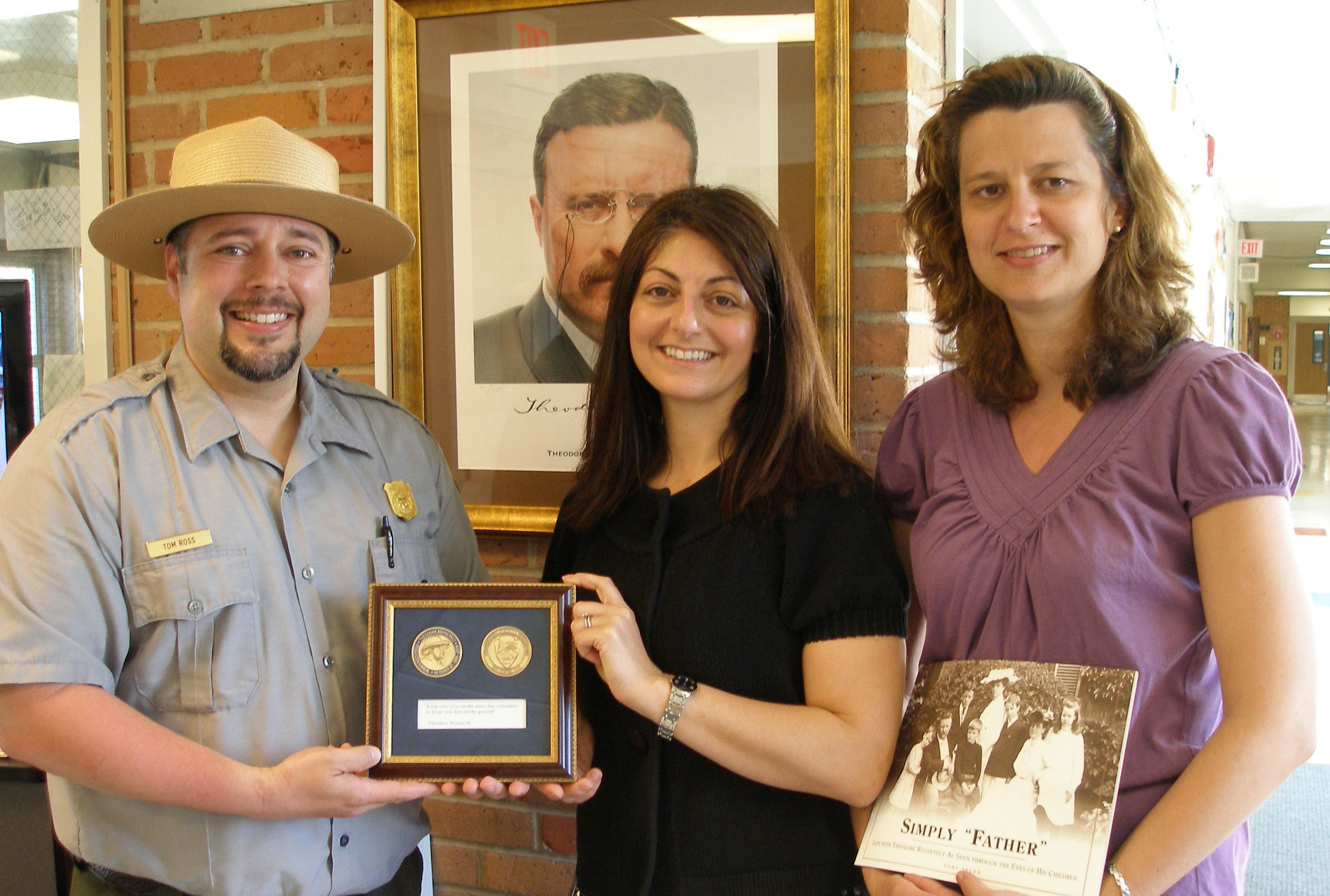 News Release Date:
May 29, 2009
On April 28th Thomas E. Ross, Superintendent of Sagamore Hill National Historic Site, visited the elementary school named for famous Oyster Bay resident and our 26th President, Theodore Roosevelt, where he had been invited to appear as a special "mystery reader" at the school.
Before visiting the class, he met with Theodore Roosevelt Elementary School Principal Gina Faust, as well as Oyster Bay- East Norwich Elementary PTA President Ann Cutajar to present, on behalf of Sagamore Hill National Historic Site, a pair of framed commemorative gold coins produced for the celebration of Theodore Roosevelt's 150th birthday. The coins feature an engraved image of TR on the front and the National Park Service arrowhead on the back as well as language commemorating TR's 150th birthday and Sagamore Hill National Historic site. The coins are part of a very limited run of only 150 produced. 
Ross said that he hoped the Theodore Roosevelt quote "Keep your eyes on the stars, but remember to keep your feet on the ground," presented in the framed layout, would inspire the children of this and future generations who attend the school to strive to accomplish great things in life. Faust accepted the gift enthusiastically and said that the school "is honored to receive this beautiful and special gift."The coins will be displayed prominently in the main entry hall of the school with other TR plaques and portraits.  
Ross also made a gift of five signed copies of "Simply Father," a children's book about growing up at Sagamore Hill told from the perspective of TR's six children. The book was written in 2006 by Toby Selda, a former teacher and current volunteer at the park. Faust said that the books would be available at the school's library and in several classrooms.
Ross then read two children's books to Ms. Impoco's kindergarten class and he explained a bit about the duties performed by National Park Rangers. The children were very curious about Ross' uniform, so he also took time to explain the symbolism of such things as the bison that appears on the NPS badge and the sequoia cones that are embossed on the belt and hat band.
Ross thanked the students and teachers for allowing him to be part of their day and invited them to visit Sagamore Hill whenever they had the opportunity to do so.