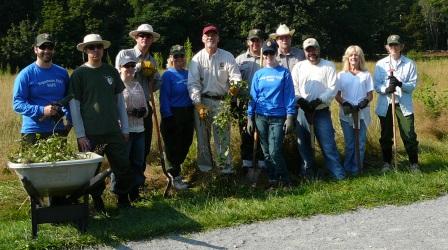 News Release Date:
August 8, 2012
Fifteen intrepid staff at Sagamore Hill National Historic Site worked together on the morning of August 2 to remove invasive porcelainberry from the meadow portion of the historic cow pasture.
Under a cloudless sky and with high humidity, the teams began their morning's work at the visitor pathway that leads from the Visitor Center and the Theodore Roosevelt Museum at Old Orchard.
All park divisions were represented on the work teams, braving native poison ivy and ticks to get the job done. All together 24 large plastic bags of porcelainberry were removed and placed out of visitor view to "cook" the vines and berries.
Safety precautions including appropriate clothing, insect repellent, and sunscreen were observed and a safety talk about exposure was delivered before the work began. Hydration breaks were part of the experience as well.
In addition, saplings of black locust and young Multiflora rose bushes and the occasional Oriental bittersweet, all also invasive, were hand dug and removed from the meadow.
Porcelainberry (Ampelopsis brevipedunculata), a perennial vine, is a member of the grape family. It originated in Northeast Asia and is reported as invasive in twelve states in the Northeast U.S. The roots, which can be an inch thick and feet long, must be dug because re- sprouting will occur if the aboveground segments are cut. Chemical control had not proven to be effective, hence the need for a park workday complete with shovels, spades and pulaskis.