Sagamore Hill NHS Will Increase Entrance Fees; Launch New Online Reservations System.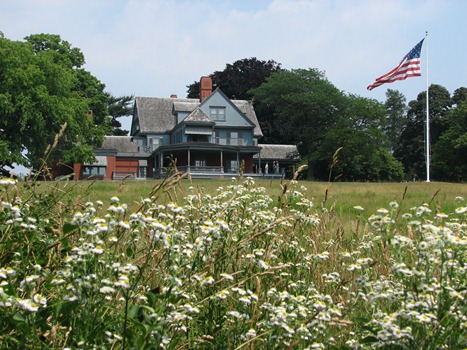 News Release Date:
May 22, 2015
 
Oyster Bay, N.Y. – Upon reopening of the Theodore Roosevelt House, at Sagamore Hill National Historic Site, to guided public tours on July 13, 2015, entrance fees will increase to $10 for visitors sixteen and older.Admission for children 15 and younger will remain free.The Sagamore Hill Annual pass will increase to $40. Sagamore Hill will continue to honor the Annual, Senior, Access, and Military Federal Recreational Lands Passes, covering admission for up to four adults including the pass holder.Access to the site grounds and the Old Orchard Museum will remain free.Sagamore Hill entrance fees have not been increase since 1993. This fee increase will help fund a maintenance backlog and complete other improvement projects around the site.This increase puts Sagamore Hill National Historic Site more in line with other National Park Service sites and other historic homes on Long Island.
"This modest increase in fees will allow us to continue to protect, preserve and share the remarkable cultural and natural resources here at Sagamore Hill with current visitors and future generations," said Sagamore Hill National Historic Site Superintendent Kelly Fuhrmann. "After carefully considering the impact of a fee increase on visitors and community members, we came to the conclusion that this is the right course of action to improve facilities and services important to visitors. Even with this small fee increase, a tour of the Theodore Roosevelt House is still one of the best recreation values on Long Island."

Entrance fees have supported a wide range of projects that improve the park and visitor experiences, including rehabilitating trails and pathways, developing and installing exhibits around the site and in the Old Orchard Museum, providing ranger-led programs, and improving ADA accessibility. Additional revenue from this fee increase will provide continued improvement of the visitor experience.
In the fall of 2014, the National Park Service conducted a nationwide review of entrance fees. To solicit public input, Sagamore Hill launched a civic engagement campaign in December 2014. During the public comment period, the park received support for the increase from the local community and no comments in opposition.
To coincide with the fee increase, Sagamore Hill will also begin the use of a new online reservation system for tours of the Theodore Roosevelt House. With dates beginning July 15, 2015, select individual house tour tickets can be reserved up to six months in advance through the website, www.recreation.gov. or call (877) 444-6777 to reserve by phone. Visitors can purchase up to 8 tickets through the online reservation system. Most individual tour tickets, as well as unreserved online tickets, will still be available to walk-up visitors. Group reservations will not be accepted until January 2016.

Last updated: July 2, 2015