Date:
October 25, 2011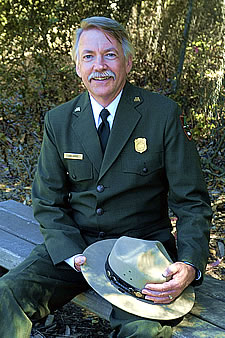 National Park Service Director Jonathan B. Jarvis will be in Oyster Bay on Thursday October 27 to participate in the annual Presidential Wreath Laying Ceremony at Youngs Memorial Cemetery to celebrate Theodore Roosevelt's 153rd Birthday.After the ceremony, the Director will participate in a special program at Sagamore Hill National Historic Site to transfer a new item to the Sagamore Hill archival collection, a 1903 note card written by Theodore Roosevelt to his son Quentin from Yellowstone National Park during a trip to western states.
The annual Presidential Wreath Laying ceremony at Youngs Memorial Cemetery to celebrate Theodore Roosevelt's birth was first organized by the Quentin Roosevelt American Legion Post #4 in October 1919, making this its 92nd year.The ceremony will begin at 10:00AM and include a color guard from the Post and representatives from the Veterans of Foreign Wars, as well as elected officials, active duty Navy personnel from the USS Theodore Roosevelt, National Park Service staff, local Boy Scouts and the second grade class from Theodore Roosevelt Elementary School. The ceremony will include the posting of colors, the presentation of the Presidential Wreath, a song from the school children and the playing of taps by a Boy Scout Bugler to end the ceremony.
Activities will then shift to Sagamore Hill National Historic Site where the Birthday celebration will continue on the porch of the Roosevelt home at approximately 10:45AM.Director Jarvis will be joined by National Park Foundation President Neil Mulholland, a Theodore Roosevelt Association representative and Sagamore Hill NHS Superintendent Thomas Ross for the presentation of the card to the National Park Service.The note card was written during Roosevelt's 8-week train tour of the western United States in 1903.Roosevelt toured 25 states, two territories and some 14,000 miles and made time to visit National Parks such as Yellowstone and Yosemite with conservation luminaries of the day such as John Muir and John Burroughs during the trip. The note card sends loving wishes to his young son and contains a sketch of one of the mules in the pack train carrying supplies during Roosevelt's camping trip in Yellowstone Park. The ceremony will include an appearance by Theodore Roosevelt as portrayed by nationally recognized re-enactor James Foote. The note card will join the park's 300 items associated with Quentin Roosevelt, one of the largest collections in the country.Quentin Roosevelt, the youngest son of Theodore and Edith died at the age of 20 on July 14, 1918 in air combat action behind enemy lines in France during World War I.
The note card will go on display at the Theodore Roosevelt Museum at Old Orchard after the transfer ceremony.