National Park Service Centennial Team Participate in 5K Race at Jones Beach State Park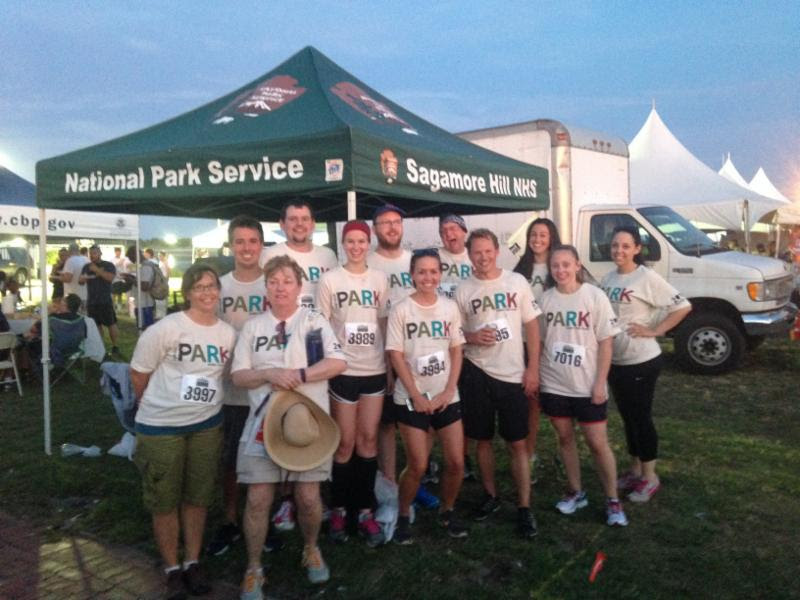 News Release Date:
July 29, 2016
Oyster Bay, NY:
On Tuesday, July 26, 2016, National Park Service staff assembled a Centennial Celebration 5k team from Sagamore Hill National Historic Site, Fire Island National Seashore, and Eastern National bookstore to participate in the Marcum Workplace Challenge. This is the eighth year staff from Sagamore Hill National Historic Site has participated in the race. The race is a great way to support the National Park Service's goal of improving employee health and welfare as well as building camaraderie amongst employees and partners.
A special thanks to Eastern National for donating the Find Your Park shirts worn by team participants. Eastern National is a cooperating association that manages the bookstores at Sagamore Hill NHS, Fire Island NS, and over 170 other of the nation's most significant cultural, historical, and recreational destinations. 
The Marcum Workplace Challenge, also known as "Long Island's Greatest Office Picnic," is an annual summer event located at Jones Beach State Park on Long Island. The course at Zach's Bay is a total of 3.5 miles. The event attracts over 6,000 participants from a variety of public and private organizations ranging from the United States Customs & Border Protection to National Grid. Money raised for this year's event will be contributed to the Children's Medical Fund of New York, the Long Island Children's Museum, Long Island Cares, Inc. – The Harry Chapin Food Bank, and The Nassau County Society for the Prevention of Cruelty to Animals. For additional information about the Marcum Workplace Challenge, please visit the website at
http://www.marcumworkplacechallenge.com/
. 
 If you have any questions or are interested in participating as part of Team NPS in next year's Marcum Workplace Challenge please contact
e-mail us
.
Last updated: July 21, 2017