Date:
September 13, 2012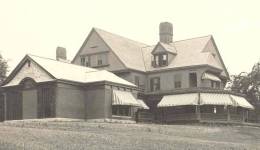 The National Park Service (NPS) recently awarded a $7.2 million contract to E&A Restoration, Inc. of Syosset, New York for the restoration and rehabilitationof Sagamore Hill, the home of Theodore Roosevelt. The rehabilitation of Sagamore Hill is being contracted and managed by the Denver Service Center of the NPS the central planning,design, and construction office for the 397 units of the national park system.
The exterior work will consist of a complete rehabilitation of the home including the installation of a new cedar shingle roof, gutter and drainage system, waterproofing of the foundation, and the rehabilitation of historicwindows, doors, siding, and porches to historic preservation standards. Other aspects of the exterior work include the historic rehabilitation of the adjacent ice house, upgrade of the fire hydrants, electrical service, and the installation of a new telecommunications trunk line, a stand-by generator andupgrades to the site's outdoor security lighting. An accessible ramp to the home's first floor, along with a walkway from the site's parking lot, will also be installed.
Interior work comprises of plaster repairs and refinishing of walls in 10 rooms, re-wiring of the electrical system, improved lighting, aswell as new and expanded mechanical systems including heating and ventilation,fire detection and suppression, and security. In addition, the home's original rear porch and its sky lit central light well, both of which were altered or removed in past work on the home, will be restored.
"As we celebrate our 50th year as a national park site, this project will go a long way in protecting and preserving this national and international treasure so that future generations may learn from and beinspired by Theodore Roosevelt and his beloved family home," said Thomas E.Ross, Superintendent. "The rehabilitation will not only preserve and protectthe home, but will significantly update its systems, improving its safety and security, enhancing public access and restoring its historic features as the Roosevelt family would have known the home when they lived there."
During the rehabilitation project, the park will remain open to the public, except for closures around the Roosevelt home and other locations on the site where work may be taking place.The Visitor Center and museum store; theTheodore Roosevelt Museum at Old Orchard; park outbuildings and grounds along with the nature trail which leads to the national wildlife refuge on Cold Spring Harbor will remain open. Public programs and special events will continue including nature and grounds walks as well as our popular Junior Ranger programs for kids.Several new programs have been developed in anticipation of the home's closure including ranger walks, illustrated programs, self-guided cellular phone tours, and an 18 minute narrated video tour of the Roosevelt home which takes the viewer room by room through the house.
Announcing Sagamore Hill National Historic Site's Fall Schedule:Beginning after Labor Day (Tuesday September 4, 2012), Sagamore Hill will be open five days per week (Wednesday through Sunday). We remind visitors that the Theodore Roosevelt home is temporarily closed due to a complete rehabilitation. We encourage visitors to experience other attractions on the site including the Theodore Roosevelt Museum at Old Orchard and the site's nature trail. Rangerprograms are offered daily.The grounds of Sagamore Hill areopen year round from sunrise to sunset.
For further information, visit our website at www.nps.gov/sahi, or call 516-922-4788. Be sureto follow us onTwitter for updates at https://twitter.com/SagamoreHillNHS and on Facebook at https://www.facebook.com/pages/Sagamore-Hill-National-Historic-Site/127271867334480
About E & A Restoration, Inc.: The Company was incorporated in 2000 and has provided design and construction management services on a vast array of projects in the metropolitan New York Area.Their experience includes building rehabilitation, historic renovations, and newbuilding construction including schools, office buildings, transit depots, and shopping centers, places of worship, parks, and museums.
-END-