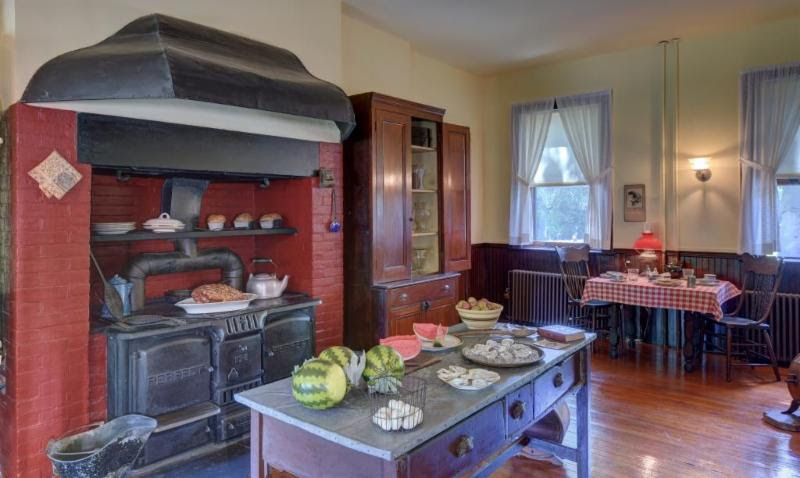 News Release Date:
July 23, 2016
Contact: Victoria Sommella, 516-922-4788
Oyster Bay, NY
: Ever wonder what it would have been like to eat like the First Family? Well, here is your chance! Join us on Sunday, August 14th, 2016 to learn how the Roosevelt family prepared and ate their meals. Children can take part in a rare chance to walk around the Sagamore Hill kitchen and discover some old fashioned gadgets. Afterward, they can even whip up some true Roosevelt recipes!
At 10:00 am, children will be lead into the kitchen of the Roosevelt home by a ranger and explore kitchen devices used by the Roosevelts and staff. Discover how much these gadgets have changed over the past century. Children will also learn how the farm at Sagamore Hill was managed, from growing vegetables to raising livestock.
After exploring the kitchen, children will have an opportunity to do a hands-on food preparation activity facilitated by food gastronomist/historian, Sarah Lohman in the Farm Shed. Additional information about Sarah Lohman can be found at:
http://www.fourpoundsflour.com/
This program is free of charge and suitable for children ages 6-12. Space is limited, so reservations are required. Please reserve at 516-922-4788 or contact Victoria Sommella at
e-mail us
.
This is not a full guided tour of the home; visitors will still need tickets to tour the rest of the president's home. Tickets are available the same day as the tour at the Visitor Center. Tours are conducted every hour on the hour from 10:00am to 4:00pm. Tours are limited to 14 people, and on weekends often sell out between 10:00am – 12:00pm. It is recommended that visitors arrive at 9:00am to purchase tickets.