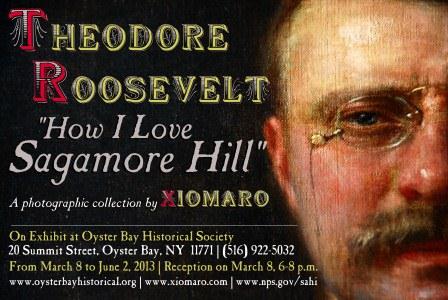 News Release Date:
February 14, 2013
An exhibition organized by Xiomáro Art Studio in partnership with Sagamore Hill National Historic Site and the Oyster Bay Historical Society
Oyster Bay Historical Society's Koenig Center
8 March-2 June 2013
Opening Reception Friday, March 8, 6-8 pm
                                  The Koenig Center, 20 Summit Street, Oyster Bay NY
                                   Live music and light refreshments are provided. 
                                 Admission is free
Gallery Talks          2:00-3:00 pm: Saturday, March 16 Sunday, April 14 
                                   Saturday, May 18               
                                   The Koenig Center, 20 Summit Street, Oyster Bay NY
                                    Admission is free
The Oyster Bay Historical Society will open its spring exhibition with a reception on Friday March 8, from 6:00 to 8:00 pm at the Koenig Center at 20 Summit Street in Oyster Bay. How I Love Sagamore Hill exhibits a selection of photographs by Xiomáro, who photographed the interior of the President's House at Sagamore Hill as it stood essentially vacant after the removal of its contents and furnishings in 2012 as part of a three-year, $7.2 million structural rehabilitation. The exhibition, presented in partnership with Sagamore Hill National Historic Site, will remain on view at the Society's Koenig Center through June 2.
During the winter of 2012, Sagamore Hill National Historic Site commissioned Xiomáro to create an artistic photographic collection of Theodore Roosevelt's Oyster Bay house in a historically rare condition-appearing much as it did when first occupied in 1887-following the removal of the twenty-three-room house's furnishings, rugs, trophy heads, library, artwork, and other contents. A total of over one hundred images document rooms on all three floors, including the first floor's North Room, dining room, pantry, drawing room, hall and library.
"So much of the Roosevelt family's personality is revealed by the house," said Xiomáro, "even though its occupants-and now most of its contents-are absent from the premises." Images from the exhibition reveal not just the imposing character of America's 26th President, but also the more intimate domestic nature of the Roosevelt family of Sagamore Hill, such as the textured sconce globes of Edith Roosevelt's drawing room. "Some of these details," continued Xiomáro, "may have previously been overwhelmed by a room's furnishing, or inaccessible to visitors behind velvet rope barriers."
The Oyster Bay Historical Society is open Tuesday through Friday from 10:00 am to 2:00 pm, Saturdays from 11:00 am to 3:00 pm, and Sundays from 1:00 to 4:00 pm. Admission to the exhibition, opening reception, and gallery talks is free. Donations are welcomed. For information, please call the Society at 516-922-5032 or visit oysterbayhistorical.org