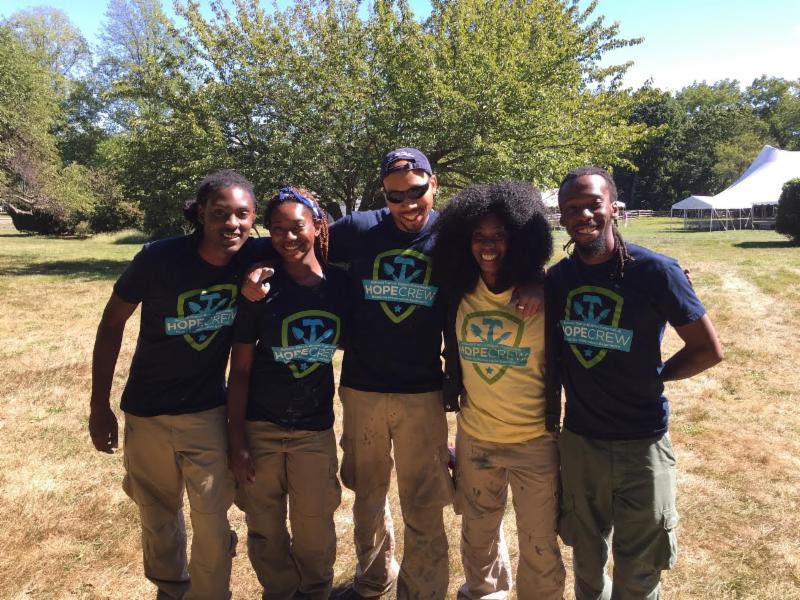 News Release Date:
September 16, 2016
Contact: Paul Cecere, 631-626-5106
Oyster Bay, NY: The National Trust for Historic Preservation's HOPE Crew (Hands-On Preservation Experience) will be coming to Sagamore Hill National Historic Site to learn about and help with the preservation of historic places. The program links preservation projects to youth volunteers interested in learning preservation craft skills while rehabilitating historic sites. HOPE Crews bolster local economies and help breathe new life into historic places in need of revitalization. The rehabilitation work the crews perform at historic places ensure that key pieces of America's past are preserved for the benefit of future generations. HOPE Crews have worked nationally at over 27 historic sites.
Several crew members will be spending a week on the grounds of Sagamore Hill improving historic outbuildings that were used in farming at Theodore Roosevelt's country estate and date back to the 1880s. Fresh paint will be added to four of the buildings including the windmill pump house, the chicken house, and the farming and garden sheds. As their mission states, crew members will gain valuable knowledge of preservation techniques and hands-on experience working with National Park Service preservation staff.
The HOPE Crew will be hosting a media day on Tuesday, September 20th at Sagamore Hill, which will include a discussion on the importance of historic preservation with Superintendent Kelly Fuhrmann and Chief of Preservation Paul Cecere. Local media outlets are invited to attend. For more information on the HOPE Crew, visit savingplaces.org/hopecrew.
For additional information, please contact Paul Cecere at 631-626-5106 or he can be reached by email at: e-mail us.