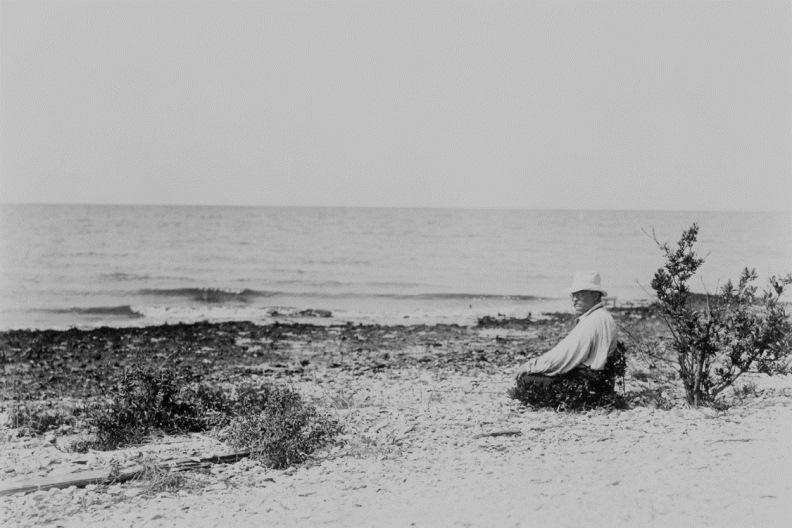 News Release Date:
January 27, 2012
On Saturday, February 18, from 8:00 a.m. to 4:00 p.m., join Sagamore Hill National Historic Site and the Theodore Roosevelt Sanctuary & Audubon Center as they celebrate Theodore Roosevelt's love of birds by participating in the Great Backyard Bird Count and other special avian activities.
Events will begin with an 8:00 a.m. bird banding demonstration at the Theodore Roosevelt Sanctuary & Audubon Center.Learn how birds are captured and banded, why it is important to understand their health, migration, and ecology, and even have a chance to help with the release of these delicate creatures.A light breakfast will be served.This will be followed by a short Project FeederWatch presentation at 9:30 a.m. Project FeederWatch is a winter-long survey of birds that visit feeders at backyards, nature centers, community areas, and other locales in North America. Be sure to stay for the presentation to learn about how you can count the birds you see at your feeders and send your counts to Project FeederWatch.
The activities will continue at Sagamore Hill National Historic Site from 11:00 a.m. to 4:00 p.m.Award-winning professional photographers Gen Benjamin & Bill Rudock will lead workshops on avian and wildlife photography at 11:00 a.m. and 2:30 p.m.The Theodore Roosevelt Sanctuary will provide a raptor demonstration at 1:30 p.m., and a children's craft activity will be available from 11:00 a.m. to 4:00 p.m.Bird walks, nature walks and historic grounds walks will be led throughout the day by National Park Rangers and Volunteers. Complimentary hot chocolate will be available, courtesy of Eastern National, to help you warm up. Please dress appropriately and wear sturdy foot wear.
The annual Great Backyard Bird Count is sponsored by the National Audubon Society and the Cornell Lab of Ornithology.People across the country can participate by recording the type and number of birds that they see in their own backyard.Anyone with an interest in birds is welcome to participate.No previous experience in birding is necessary.
For further information:Sagamore Hill National Historic Site at (516) 922-4788 or visit our website atwww.nps.gov/sahi.Theodore Roosevelt Sanctuary & Audubon Center at (516) 922-3200 or visit our webpage at http://ny.audubon.org/CentersEdu_TRoosevelt.html
-More-
Sagamore Hill National Historic Site, located at 12 Sagamore Hill Road, Oyster Bay, New York, is a unit of the National Park Service.The site was established by Congress in 1962 to preserve and interpret the structures, landscape, collections and other cultural resources associated with Theodore Roosevelt's home in
Oyster Bay , New York
, and to ensure that future generations understand and
appreciate the life and legacy of Theodore Roosevelt, his family and the significant events associated with him. NOTE: The Roosevelt Home was closed to the public for a two- to three-year period beginning December 5, 2011 due to a major rehabilitation of the home.However, the Visitor Center, Theodore Roosevelt Museum at Old Orchard and the grounds will continue to be open and free interpretive programs will be offered.For further information, visit our website at www.nps.gov/sahi, or call 516-922-4788. Be sure to follow us on twitter for updates at https://twitter.com/SagamoreHillNHS and on Facebook at https://www.facebook.com/pages/Sagamore-Hill-National-Historic-Site/127271867334480
The Mission of the Theodore Roosevelt Sanctuary & Audubon Center, located at 134 Cove Road,
Oyster Bay, New York, is to connect people with nature while promoting a sense of environmental stewardship through natural science educational programs.
http://ny.audubon.org/CentersEdu_TRoosevelt.html
-END-