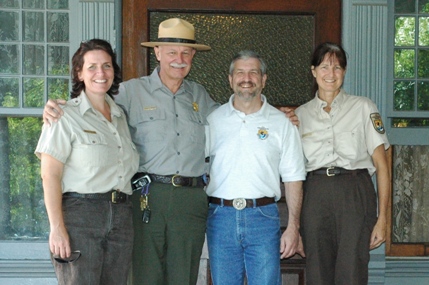 News Release Date:
September 21, 2007
Oyster Bay, NY - On Thursday, Sept. 20, Fish and Wildlife Service Director Dale Hall visited Sagamore Hill, home of Theodore Roosevelt, 26th US President and founder of the Fish and Wildlife Service in 1903. It was the first time Hall had visited Sagamore Hill. 
            Director Hall had come to New York City to attend a function, and found time to visit the Long Island National Wildlife Refuge Complex. The waterfront property of Sagamore Hill is contiguous with the Wildlife Refuge.  Hall was given a tour of the WaterFront Center in Oyster Bay prior to touring by boat the Oyster Bay Harbor and arriving at Sagamore Hill. 
            Theodore Roosevelt's daughter, Ethel Roosevelt Derby, was instrumental in having the Oyster Bay Harbor area added to the Long Island Wildlife Refuge, thereby preventing footings from being driven into Long Island Sound for a proposed bridge that would have connected Long Island to Connecticut in the 1950s.
            Director Hall was accompanied by Deborah Long, Refuge Manger, and Michelle Williams, Deputy Refuge Manger. The honored guests were greeted by Superintendent Greg Marshall and by Charles Markis, Chief of Interpretation at Sagamore Hill, who gave the tour of the grounds and home of the Conservation President and Fish and Wildlife Service Founder.