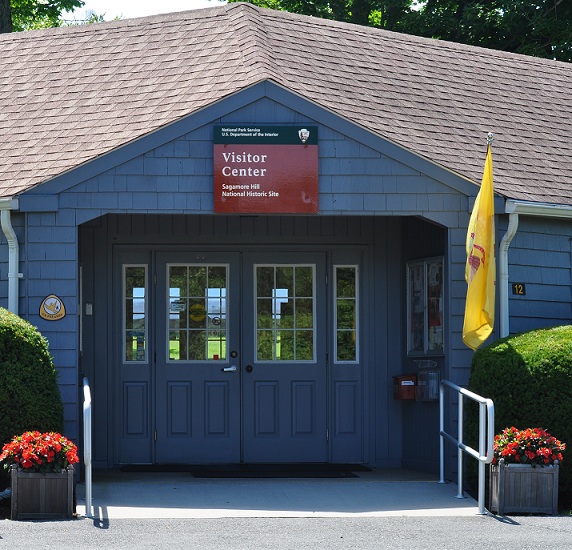 News Release Date:
November 30, 2014
Contact: Martin Christiansen, 516-922-4788
Sagamore Hill National Historic Site Proposes Fee Increase
Oyster Bay, NY- Sagamore Hill National Historic Site and other National Park Service (NPS) units that collect entrance fees from park visitors are beginning public engagement seeking comments on possible changes in park fees beginning in 2015. 
Beginning in 2015, parks are authorized to change recreation fees to align with the NPS's new standard entrance-fee schedule, which was last updated in 2006. They may not do so, however, until after actively engaging the public about proposed fee changes and their effects. The public includes park users and local communities as well as congressional delegations, state and local elected officials and other interested "stakeholder" groups. Decisions to adjust fees will be made locally and only after considering community feedback from the public outreach. 
Each park, including Sagamore Hill National Historic Site, must document its outreach efforts, and results must be approved by the Director of the National Park Service before any fee increase can take effect. As part of civic engagement, the park will be accepting comments via an online system at https://parkplanning.nps.gov/ until December 31, 2014. 
The existing fee per adult to enter Theodore Roosevelt's Home is five dollars. This is less than any comparable house museum in the area and this charge has not been raised since 1993. The current cost of a park annual pass is twenty dollars. Children 15 and younger are free. Holders of Annual, Senior, Access, Military, and Sagamore HIll Park Passes are free.
The proposed fee per adult to enter Theodore Roosevelt's home is ten dollars. The park annual pass is proposed to be forty dollars. Admission for children 15 and younger will remain free. Holders of Annual, Senior, Access, Military, and Sagamore HIll Park Passes will also remain free. the increase in fees would put Sagamore HIll National Historic Site more in line with other National Park Service sites as well as other similar historic sites in the area. 
The increased income will be used to maintain the Theodore Roosevelt Home and museum collections, to develop new interpretive programming, to support staffing costs, and to enhance visitor services and facilities as the National Park Service approaches its centennial anniversary in 2016. Of the 401 parks, monuments, recreation areas and other units of the National Park System, 131 collect entrance fees- about one-third of all units. All fee income collected at Sagamore Hill National Historic Site is retained for use to enhance this site's visitor experience.