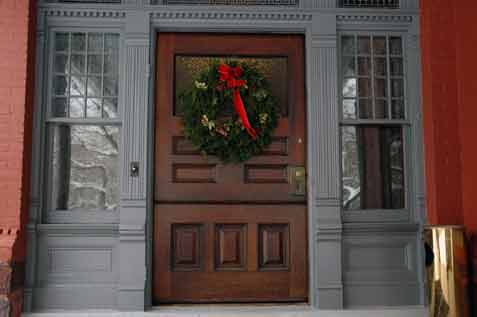 News Release Date:
November 27, 2015
Contact: Josh Reyes, 516 802 7543
Christmas with the Roosevelts at Sagamore Hill
Oyster Bay, NY: On Saturday, December 5, 2015 from 11 a.m. to 4 p.m., Sagamore Hill National Historic Site will host Christmas with the Roosevelts at Sagamore Hill. Activities will include holiday music performed by Larry Moser and Mary Nagin of Huntington, NY, caroling by Close Enough, and a special appearance by "Theodore Roosevelt," as portrayed by James Foote.  "Mr. Roosevelt" will share his reminiscences of how the Roosevelts celebrated Christmas at Sagamore Hill and in the White House.
Author Kathleen Bart will read from her book Tale of Two Teddies at 1 p.m. The program will be followed by a teddy bear drawing activity in our craft area. Ms. Kathleen Bart will also be available for signing copies of her book in our Eastern National Bookstore. In addition, there will be other holiday arts and crafts activities for children of all ages. Complimentary hot cocoa and cider will be provided by the Friends of Sagamore Hill.
Viewing Theodore Roosevelt's home will be on the first floor only from 10:00 am- 4:00 pm. Guides will be posted in the home to provide an informative experience. Photography and video recording will not be allowed inside the house. Bags, packs, and strollers will not be permitted in the Theodore Roosevelt House during the tours—please plan accordingly. There will be no advanced reservations on Saturday, December 5th.
-NPS-
Sagamore Hill National Historic Site, located at 20 Sagamore Hill Road, Oyster Bay, New York, is a unit of the National Park Service. The site was established by Congress in 1962 to preserve and interpret the structures, landscape, collections and other cultural resources associated with Theodore Roosevelt's home in Oyster Bay, New York, and to ensure that future generations understand the life and legacy of Theodore Roosevelt, his family and the significant events associated with him.
For further information, visit our website at www.nps.gov/sahi, or call 516-922-4788.
Be sure to follow us on twitter for updates at https://twitter.com/SagamoreHillNHS and on Facebook at https://www.facebook.com/pages/Sagamore-Hill-National-Historic-Site/127271867334480.
-NPS-
-END-