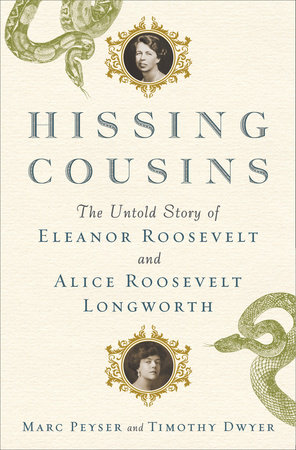 News Release Date:
May 22, 2015
Oyster Bay, NY —Join us on June 27th at 3:00 pm in Christ Church Parish Hall located in Oyster Bay, NY for a talk on Hissing Cousins: The Untold Story of Eleanor Roosevelt and Alice Roosevelt Longworthpresented by authors Marc Peyser and Timothy Dwyer.This free program and book signing is provided by Sagamore Hill NHS, the Friends of Sagamore Hill, and Eastern National.Copies of Hissing Cousins will be available for purchase at Christ Church Parish Hall. 

History remembers Alice and Eleanor as oil-and-water opposites, but their lives were filled with remarkable similarities. They were arguably two of the most influential American women of all time –friends and advisers to presidents and royals alike, as well as fixtures on the front pages of American newspapers. And most surprisingly of all, they came from the same family.

An intimate and stylish dual-biography of two of the most notable women of the 20th century, in Hissing Cousins: The Untold Story of Eleanor Roosevelt and Alice Roosevelt LongworthMarc Peyser and Timothy Dwyer explore the remarkable relationship between two complex and fascinating women who moved in powerful circles during extraordinary times.
Their overlapping stories are unsurprising, given that their fathers Theodore and Elliott Roosevelt were brothers. The first cousins were regular playmates through their childhoods –and what makes Hissing Cousins so surprising is that it demonstrates how the pair evolved into such radically different people, both politically and temperamentally, while still managing to both leave indelible marks on the world. 

Lively and novelistic, the story of their sibling-like rivalry that unfolded against some of the most momentous events in American history is full of human and humorous stories that trace the parallels between the lives of these two Roosevelt cousins, from their common birth years through the activism and influence of their larger than life adulthoods.
This free program will also serve as a kick-off to the reopening celebration of Sagamore Hill NHS on Sunday, July 12, 2015. Christ Church Parish Hall is located at 61 East Main Street, Oyster Bay, NY11771. Additional Information can be found at http://christchurchoysterbay.org/