Becoming Teddy Roosevelt at Christ Church in Oyster Bay on August 11 at 7pm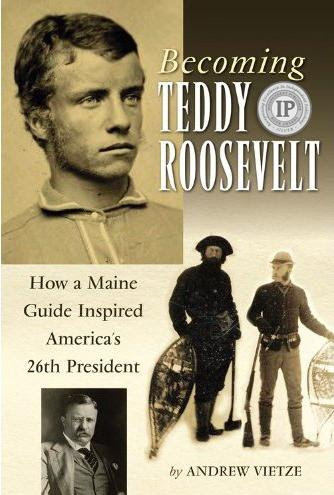 News Release Date:
August 4, 2016
On August 11 at 7 pm, author Andrew Vietze will speak about his award-winning book, Becoming Teddy Roosevelt at the Christ Church Parish Hall located at 61 E. Main Street in Oyster Bay, NY. This free author talk is provided by Sagamore Hill National Historic Site and Eastern National as part of the National Park Service Centennial Celebration.
Becoming Teddy Roosevelt explores a little-known chapter in the life of Theodore Roosevelt – his lifelong friendship with legendary Maine Guide Bill Sewall. The book takes TR from the streets of New York to the North Woods of Maine and out to the wild frontier of the Dakota Territory, watching him grow from a sickly Harvard student to the kind of man who could be President under the tutelage of the rugged lumberman. It has quickly become a North Woods classic. The book was formally honored by decree of the Maine State Legislature in 2010, and made its way into the curriculum of twenty schools across the Pine Tree State as part of the Lunder New Naturalists program. Outside Maine,Becoming Teddy Rooseveltwon an IPPY at the Independent Publishers Book Awards in New York in 2010, and was a finalist for an IndieFab Book of the Year Award, judged by librarians and booksellers from around the country. 

Critics were equally impressed. TheMidwest Book Reviewcalled the book: "(An) amazing, true-life tale of lasting camaraderie between great men of strikingly different backgrounds and stations. Highly recommended." TheMaineSundayTelegrampraised its celebration of "the extraordinary qualities of two men: the one largely unsung, the other well known, larger than life, but rarely shown in so intimate and human a light," and wrote that it was "a joy to read." And theSeattle Post Intelligencerput it simply: "a wonderful book."

The former managing editor of Down East, Andrew Vietze has written for a wide array of publications, including theNew York Times'LifeWire, Weather.com's "Forecast Earth," Frommer's, Crawdaddy!,Time Out New York, Explore, Offshore, Big Sky Journal, AMC Outdoors,Popmatters, andAmerican Songwriter. Today, he spends a lot of time writing scripts, currently for NASA's Kennedy Space Center and for an MPBN documentary on Maine's Merrymeeting Bay. In 2014, his bookBoon Islandwas a #1 Amazon bestseller (US History) and was featured on the Travel Channel.

A Registered Maine Guide, Vietze splits his time between an old farmhouse in Appleton, Maine, and a cabin in the woods of Baxter State Park, where he works as a seasonal ranger. Find out more atwww.andrewvietze.com.
Last updated: August 4, 2016