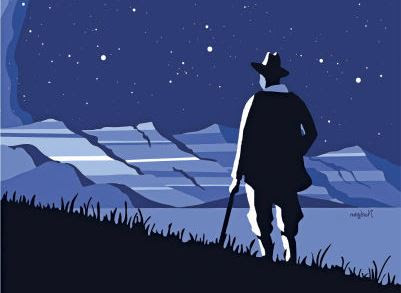 News Release Date:
August 28, 2016
Contact: Shaileen McKenna, 516-922-4788
Oyster Bay, NY –
 Hofstra University is partnering with the Sagamore Hill National Historic Site to honor the 100th anniversary of the National Park Service (August 2016) and present an Astronomy Night at Sagamore Hill. Dr. Donald Lubowich, Coordinator of the Astronomy Outreach Program at Hofstra University, will give the public a spectacular glimpse of the heavens. This Hofstra - sponsored program features close-up views of the Moon, Saturn with its beautiful rings, Mars, multi-colored double stars, nebulae, and star clusters that sparkle like diamonds on black velvet combined with astronomy videos, posters, banners, and hands-on-activities for all ages. The Amateur Observers' Society of New York is a partner with this program. The program will be held even if there is cloudy weather.
"Bringing astronomy to Sagamore Hill National Historic Site gives us a very special opportunity to encourage children to pursue their interest in science or math and to promote public understanding of science," said Dr. Lubowich. "Gazing at the rings of Saturn or the Moon's craters captures the imagination, no matter how old you are."
Theodore Roosevelt promoted conservation throughout his life. As president, Theodore Roosevelt signed the Antiquities Act into law on June 8, 1906. The act stated "the President of the United States is hereby authorized, in his discretion, to declare by public proclamation historic landmarks, historic and prehistoric structures, and other objects of historic or scientific interest that are situated upon the lands owned or controlled by the Government of the United States to be national monuments." Roosevelt proclaimed 18 National Monuments before leaving office in March 1909. On August 24, 2016, the Katahdin Woods and Waters National Monument was established by President Obama with the Antiquities Act of 1906.
Dr. Lubowich created the Stars on Sundays monthly telescope observing at Hofstra, the Astronomy Festival on the National Mall (was co-sponsored by the White House Office of Science and Technology Policy in 2010) and the NASA-funded Music and Astronomy Under the Stars program, which brought astronomy outdoor concerts for 50,000 music lovers at Long Island parks and to the Newport Folk, Tanglewood, and Ravinia music festivals. Yo-Yo-Ma and the Chicago Symphony or Boston Symphony Orchestras, the McCoy Tyner Quartet with Ravi Coltrane, Esperanza Spalding, Phish, Blood Sweat & Tears, Deep Purple, Patti Smith, Tony Orlando, and Wilco have performed at these concerts.