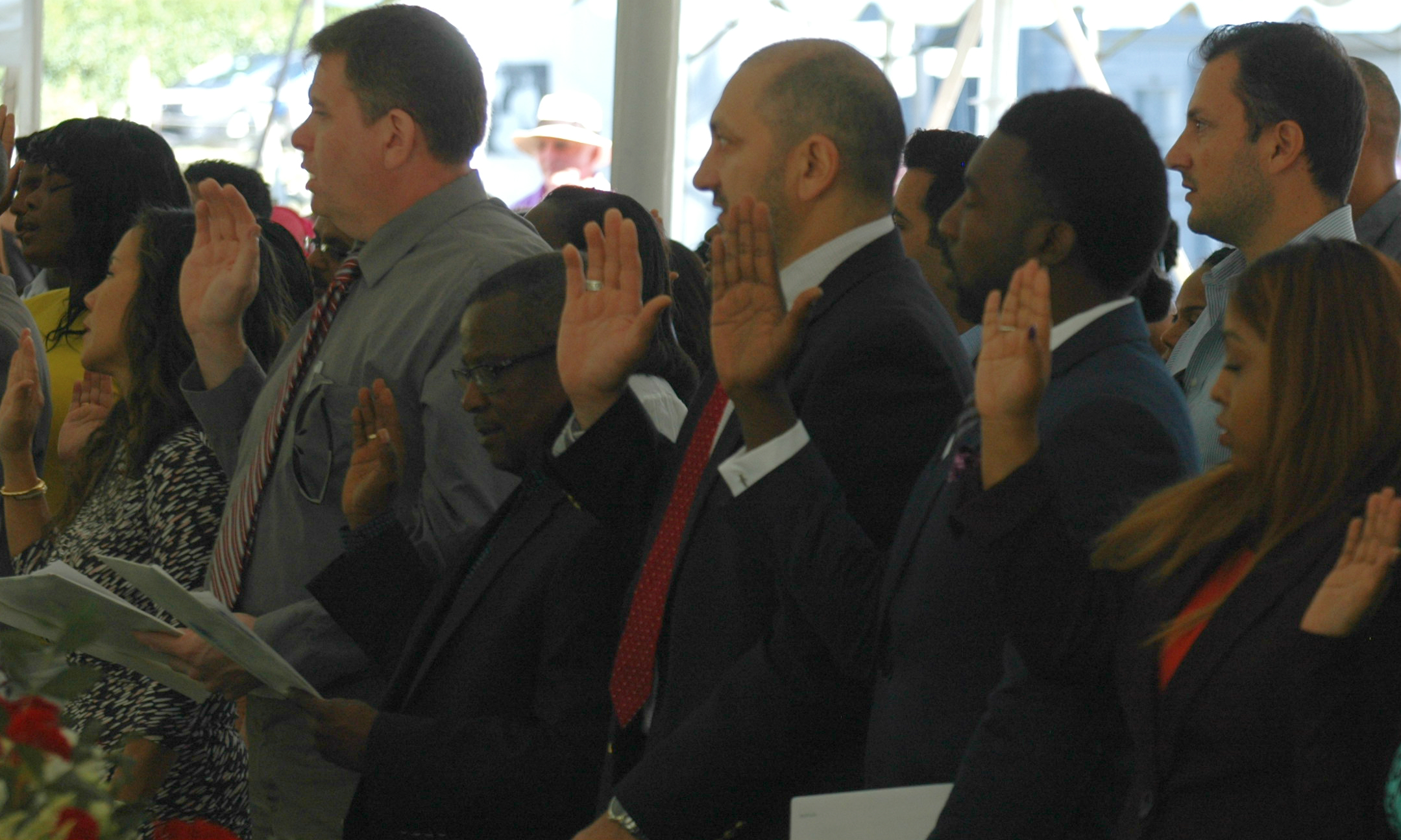 News Release Date:
September 23, 2016
Contact: Clayton Hanson, (516) 922-4788
Oyster Bay, NY — Sagamore Hill National Historic Site hosted the naturalization of 75 new citizens on Friday, September 16, 2016. In honor of Constitution Day and the National Park Service Centennial, this ceremony was held at Theodore Roosevelt's Long Island home instead of the Alfonse D'Amato Federal Courthouse in Central Islip.
For this special occasion, 13 judges of the Eastern District of New York helped to administer the oath of citizenship to the group. Following the oath, Laina Boris – a law student at St. John's University and a naturalized citizen – delivered a moving speech to the assembled crowd on her journey to the United States and citizenship. The new citizens also received special video greetings from President Barack Obama and Associate Justice of the Supreme Court of the United States Sonia Sotomayor.
"What a privilege it is for us, as federal judges in the Eastern District of New York, to administer the oath of citizenship to these men and women who have worked so very hard to become citizens of this beloved country of ours," said Judge Kathleen Tomlinson, "It is one of the very best things a federal judge gets to do. Each one of these new citizens, who have come from six continents and 32 different, have brought with them gifts and talents to enrich the great fabric of this place we all call home."
This event would not have been possible without the assistance of the United States Customs and Immigration Service and the sponsorship of the Eastern District Chapter of the Federal Bar Association. The Marine Corps Color Guard and music by the choir of Saint Anthony's High School also added to the patriotic spirit of the day.
"These new citizens of the United States of America are welcome to visit the many public lands set aside for education and appreciation," added Kelly Fuhrman, Superintendent of Sagamore Hill National Historic Site. "These special places belong to everyone. Wherever you are from, they inspire the human spirit."
The League of Women Voters assisted new citizens and their family members in registering to vote for the first time. Afterwards, Sagamore Hill opened the doors of the Theodore Roosevelt Home for free, so new citizens and guests could explore the home and legacy of America's 26th President.