Bicycling at Saguaro National Park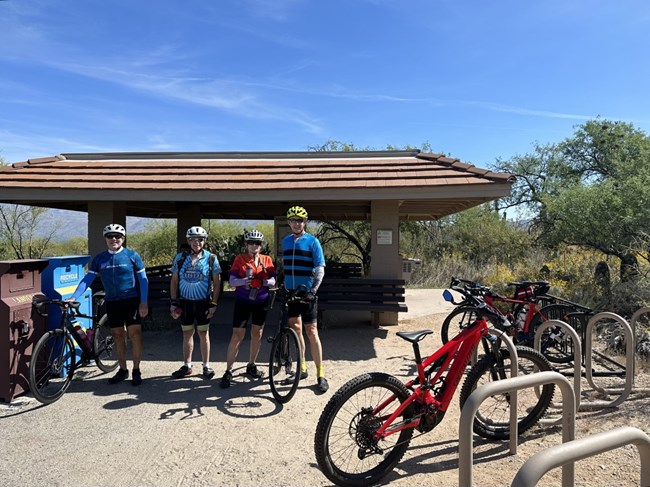 Tucson is known as one of the most bicycle-friendly cities in the United States. This is largely due to our climate, particularly in the winter. If you plan on bicycling during the summer, it is best to get an early start and avoid the mid-day heat. Always carry plenty of water regardless of the time of year.

Saguaro National Park offers visitors the chance to view native plants and animals while surrounded by the spectacular scenery of the Sonoran Desert. A popular way to enjoy the park is to bike around one of our scenic loop drives. The Cactus Forest Loop Drive in the Rincon Mountain District (east) is an 8-mile paved loop. The Bajada Loop Drive in the Tucson Mountain District (west) is a 6-mile gravel loop.

It is important that you know the park's rules and regulations for cyclists and mountain bikers.
Bicycling Information
E-BIKES: E-bikes are permitted only where traditional bicycles are allowed. Except where motor vehicles are allowed, using the electric motor to move an e-bike without pedaling is prohibited. State laws concerning e-bikes apply within Saguaro National Park.
FACILITIES: Restrooms are available at both visitor centers during daylight hours only. Pit toilets are available at all picnic areas. Benches, bicycle racks and water fountains can be found adjacent to both visitor centers.

WATER: Carry plenty of water while biking, especially during the summer. Drinking water can be found outside both visitor centers. Drinking water is NOT available on the Cactus Forest Drive, Bajada Loop Drive or at any picnic area.

SAFETY: Review our rules and regulations for bicycling safety information.

CONTACT: Both visitor centers are open from 9 am to 5 pm daily. The phone number at the Rincon Mountain District (east) is (520) 733-5153. The phone number at the Tucson Mountain District (west) is (520) 733-5158. If the visitor center is closed, call 911.

ENTRANCE: A 7-day entrance pass for bicycles can be purchased at the park or online. Children under 16 are free. For frequent riders, annual passes are available at either visitor center or the entrance station. These passes allow unlimited entry for the pass holder plus 3 adults (under 16 free) into the park, and they are valid for one year.
Where to Ride
Rincon Mountain District (east)
On the east district, bicycles are permitted on the 8-mile Cactus Forest Loop, the 2.5-mile Cactus Forest Trail, and the 2.8-mile Hope Camp Trail.

Cactus Forest Loop is a scenic route through the lower elevations of the Rincon Mountain District (east). It is 8 miles and fully paved, except for the spur gravel road that leads to Mica View Picnic Area. This road is open to all vehicles, bicycles and pedestrians. The Cactus Forest Loop is narrow with multiple tight turns and steep hills. Maintain a safe speed for road conditions and your own riding experience. Be sure to slow down before curves and hills.

Cactus Forest Trail is 2.5 miles one-way. You can access this trail from either Cactus Forest North or South trailhead. This is a very thin trail with eroded sections that may make it dangerous for bikers and hikers alike. Please use discretion and safe practices.

Hope Camp Trail starts at the Loma Alta trailhead from the end of Camino Loma Alta. This trail travels east through the southwestern portion of the Rincon Mountain District (east) to the park's boundary approximately .2 miles south of Hope Camp. Beyond Hope Camp, the trail connects the Arizona Trail and continues south into the Rincon Valley. Bikes are allowed on the Arizona Trail.

Tucson Mountain District (west)
The Bajada Loop is a scenic route through the lower elevations of the Tucson Mountain District of the park. It is 6 miles in length and is gravel, except for a small section along Kinney and Sandario Roads. These roads are open to all vehicles, pedestrians and bicycles. Biking is only permitted on the roads. Riding on trails around this loop is not permitted.

The Golden Gate Multi-use Trail (section of Golden Gate road that is no longer accessible by car) is a wide gravel path that can be biked. Entrance points are at the end of Golden Gate Road on the Bajada Loop or off Picture Rocks Road.

Tucson Bike Map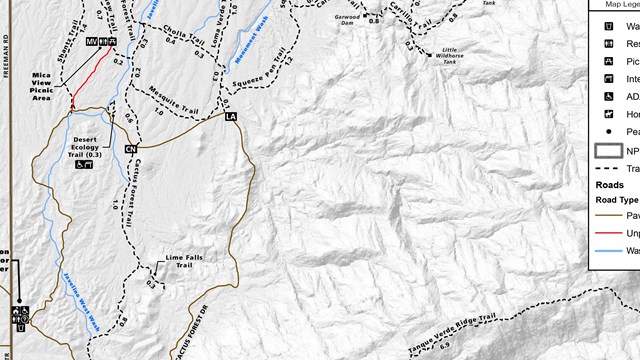 Maps
Our maps help you plan your trip and keep you safe navigating our wilderness.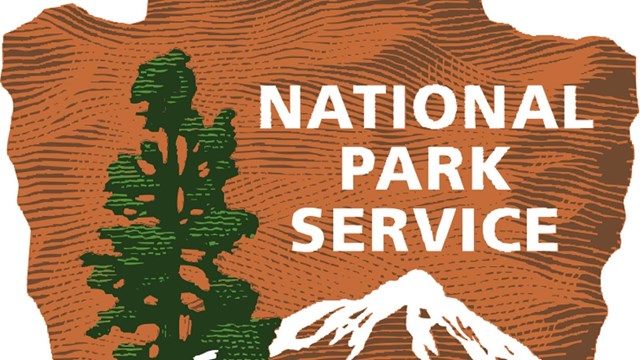 Rules and Regulations
Rules and regulations for Saguaro National park including topics from general hiking, to drone usage and wedding permits.
Last updated: December 1, 2023