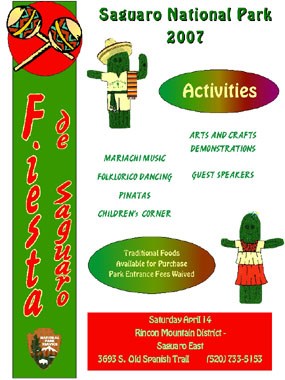 SAGUARO NATIONAL PARK
HOSTS FIRST ANNUAL
FIESTA DE SAGUARO
Saguaro National Park will host its first annual Fiesta de Saguaro, on Saturday April 14th, from 10:00 am to 4:00 pm. The event will be held at the park's Rincon Mountain Visitor Center, at 3693 South Old Spanish Trail. The Fiesta celebrates the rich Hispanic history and culture of park and local area, with a variety of activities, exhibits, lectures, demonstrations and performances. This family-oriented event is free to the public, and includes free entrance to Saguaro National Park's Rincon Mountain (East) District.
Due to limited parking at the Rincon Mountain Visitor Center, the park will run continuous shuttle service from Sahuaro Baptist Church, located at 10361 East Old Spanish Trail (at Houghton Road). The shuttle service will run from 9:30 am until 4:30 pm. The only parking available at the visitor center on April 14th will be for those visitors with special needs.
Activities scheduled for the day include:
10:00 am Fiesta de Saguaro Begins
11:00 am Performance by Fólklorico Tanantzin Dance Group
12:00 pm Guest Lecture by Robin Pinto
Children's Piñata
1:00 pm Performance by the Sunnyside High School Mariachi Band
2:00 pm Guest Lecture by Patricia Martin
3:00 pm Book Signing – Patricia Martin
Children's Piñata
4:00 pm Fiesta de Saguaro Ends
Throughout the day there will be ongoing activities, including children's art and crafts, special exhibits, and craft demonstrators. Traditional Mexican food will also be available for purchase.
Fiesta de Saguaro is sponsored by the National Park Service, with financial support provided by the Western National Parks Association and the Friends of Saguaro National Park. For information on these organizations, check out their web sites, listed below. For additional event information, contact Melanie Florez at (520) 733-5151, or the Rincon Mountain Visitor Center at (520)733-5153.