Water in Saguaro National Park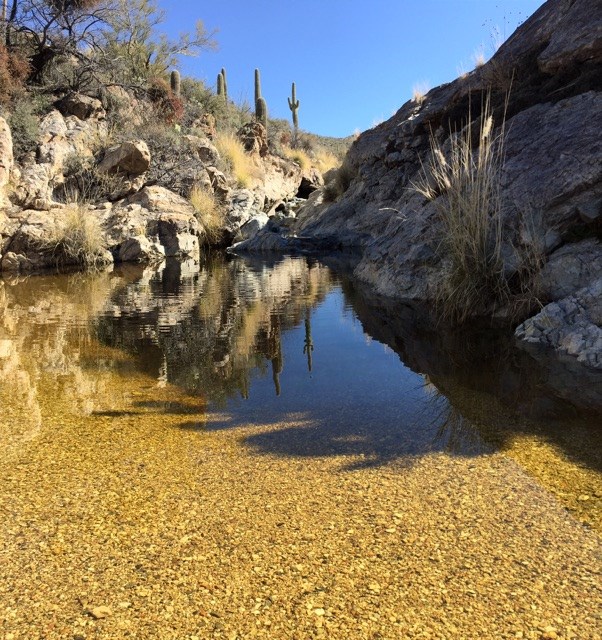 Water in the Valleys of the Sonoran Desert
In the Sonoran Desert, life waxes and wanes in accordance with precipitation. Annual rainfall can be 2 inches one year and 25 inches the next. Precipitation comes in extremes even in the highest elevations of the park. At 8,666 feet (2,641 m) in the Rincon Mountain District of Saguaro, Mica Mountain receives over 30 inches of rainfall annually. Good years of rain see explosions in plant and animal populations, while drier years usually result in dieoff. The Rincon Mountain District of the park averges roughly 12 inches of rainfall per year, and the Tucson Mountain District averages slightly less. Water is present year-round in the Rincon Mountain District with deep tinajas and springs, whereas the Tucson Mountain District may only have water for days at a time. Water infiltrates at a higher rate with increased vegetation, taking decades to surface in lower elevation springs from the high country. Monsoon storms often run off with extreme amounts of rain in short periods, making for a dangerous hiking scenario in canyons. Winter rains and snow are far more beneficial, leaving the soil moist for weeks or months. Unfortunately, climate change is drastically reducing snow and rain during the winter, putting in danger plants that depend on those rains when compared to monsoon activity.
Explore the park's water resources, learn about research the park is conducting to better understand them, and discover some of the threats to the waters.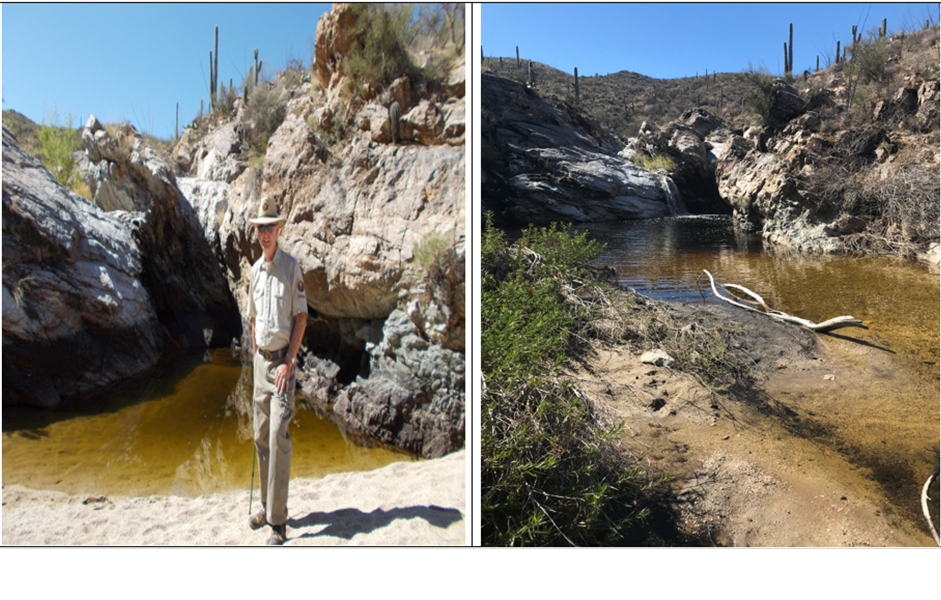 Fire Impacts on Hydrology
Intense fire can completely alter or even destroy riparian ecosystems in fragile environments such as the Rincon Mountain District of Saguaro National Park. Perennial tanajas, from 5 feet to as many as 30 feet deep line the waterways here, providing life for lowland leopard frogs, canyon tree frogs and countless other species while providing year-round water for terrestrial animals as well.

In this image you can see the effects of fire (left) 15 years post-fire at Little Wildhorse Tank. Massive erosion from slopes without vegetation from the incredibly intense & unnatural Chiva Fire (1989) fillled this large tanaja with sediment to the top, eliminating habitat for nearly all aquatic species. The image on the right shows the tank after another 14 years (2018) over 20 feet deep, re-establishing habitat for aquatic species. This tells us that vegetation has stabilized the steep mountain slopes and returned hydrologic processes to a more normalized state.
See
Landscape of Desert Waters
to learn more about park waters.
This special booklet, supported by the Friends of Saguaro National Park, may take a few minutes to download, but is a great introduction to our water resources.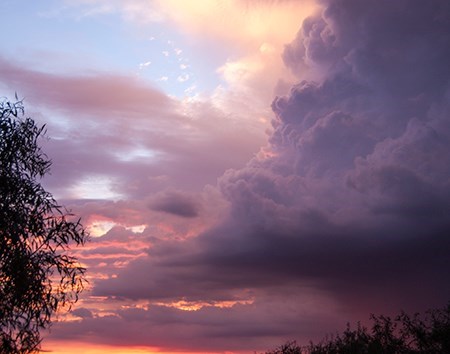 Monsoon Season
June 15 - September 30
During the summer months, the Sonoran Desert gets much needed relief from hot and dry conditions when monsoon storms drench the landscape. Officially, Saguaro National Park is in "monsoon season" from June 15 through September 30, and can expect severe thunderstorms each afternoon. Though the season officially begins on June 15, often the park doesn't see its first seasonal storm until early July. After then, it can rain each day as the sun heats up the humid air, building the thunderclouds that create the storm conditions.
Some storms are severe enough, and drop enough rain at once to cause flooding. Flash floods come quickly and can be dangerous.
Do not try to cross a flooded wash - often as quickly as the flood comes, it will dissipate as storms move across the landscape. Instead, sit back and enjoy the show until you can safely cross. Lightning can also pose a hazard this time of year. Time your activity to be indoors in the afternoon. If you are outside during a storm, find shelter. Lightning will often strike trees and saguaro cacti, so stay away and stay low if you get caught.
Once the storms subside, the evening skies can be amazing. Find a place with a great vista and enjoy what mother nature has to offer.
Last updated: October 24, 2023