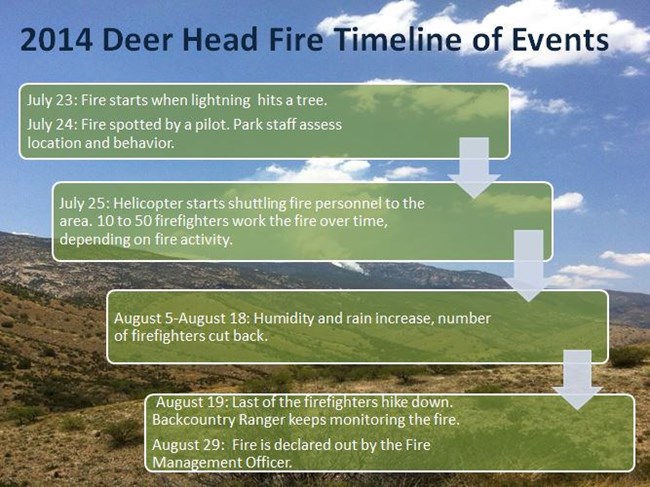 Resilient Landscapes Program Funding to Help Combat Southern Arizona Buffelgrass Invasion (FY 15)*Saguaro National Park, the Coronado National Forest, and the Southern Arizona Buffelgrass Coordination Center are the recipients of Resilient Landscape Program (RLP) funding from the Department of the Interior to help address the growing buffelgrass problem, which poses a serious threat to the Sonoran Desert and its residents. More
Aerial Treatments Reduce Fuels in the Wildland Urban Interface (FY 14)*The battle against an invasive, non-native grass at Saguaro National Park has been taken to a new level. In 2014, the park began using aerial herbicide application with a helicopter, a new tool in the fight against buffelgrass. Aerial and ground treatments were conducted following buffelgrass greenup.More
The Right Response, at the Right Time, for the Right Reasons (FY 14)*When the lightning-ignited Deer Head fire started on July 24, 2014, Saguaro National Park fire managers decided to manage the fire to maintain a healthy forest and wildlife habitat. However, they suppressed the Jackalope fire due to its location.More
2014 Deer Head Fire Inciweb Page
2014 Jackalope Fire Inciweb Page
Interagency One Less Spark, One Less Wildfire Campaign Aims to Prevent Human-Caused Wildfires (FY 14)*Saguaro National Park has been working with local partners to bring the Southwest Coordinating Group's One Less Spark, One Less Wildfire campain to southern Arizona to help educate the public about ways they can help prevent human-caused fires.More
Wildland Fire Module Provides Nationwide Response Support (FY 13)*The Saguaro Wildland Fire Module (WFM) particpated in more than 20 projects / incidents within Arizona, New Mexico, Texas, Utah and California in 2013. Assigments included a diversity of planned and unplanned fire events, mechanical fuel treatments, and over 400 wildfire defensible space structure assessments.More
Susan Keys, Saguaro National Park Fire Program Management Assistant, Receives Jeanie Harris Award(FY 13) Susan Keys, the fire program management assistant at Saguaro National Park, has been selected as the recipient of the 2013 Jeanie Harris Award which was established in 2004 to commemorate the legacy of service of Jeanie Harris, an Intermountain Region fire budget analyst.More
Prescribed Burning Reduces Fuels at Saguaro National ParkIn May, 2010, Saguaro National Park used prescribed fire to treat about 114 acres of high elevation ponderosa pine forest. It was the latest in a series of burns in the park going back to 1996.More
Herbicides Effective on Invasive Grass Changing the Fire Regime of the Sonoran DesertSaguaro National Park has been fighting buffelgrass since the early 1990's. As of 2013, buffelgrass has been largely removed from over 500 acres within the park. Where it has been removed, native plant communities have responded well, and native plants are reoccupying areas where many had been suppressed or outcompeted by buffelgrass.More
Wildland Fire Science in the ClassroomA May 2012 program for Tucson-area 8th graders included fire science and ecology, wildland fire management, prescribed fire, and fire careers.More
Assessing Wildfire HazardSaguaro National Park is supporting the development of a Community Wildfire Protection Plan (CWPP) for Pima County, in southern Arizona.More
Volunteers Successfully Clear Large Patch of BuffelgrassIn March 2012, a nearly four year quest to remove a massive infestation from the heart of the park came to an end with the clearing of buffelgrass in the Freeman area, thanks to community volunteers.More
Buffelgrass: Southern Arizona Fights Back
A June 2012 Southwest Fire Science Consortium article by Josh McDanielMore- See also:Buffelgrass: Southern Arizona Fights Back Video
Fire Fuels Research in the War on Buffelgrass
A NPS Rx Effects Newsletter -Volume 1, Issue 11, Spring 2012 article by NPS Fire Ecologist Perry GrissomMore
Wildland Fire in the Rincon Wilderness
A Spring / Summer 2012 Arizona Wilderness Coalition Newsletter article by NPS Fire Communication and Education Specialist Michelle Fidler More
Fire Education Teacher-Ranger-Teacher
Saguaro National Park hosted a Fire Education Teacher-to-Ranger-to-Teacher during June and July 2010More
Alpine and Arrowhead Hotshots Work Together on Prescribed Fire
In late June 2010, the Arrowhead and Alpine Interagency Hotshot crews were both assigned to the Mica Mountain Prescribed Fire at Saguaro National Park.More
Telegraph Fire
The lightning-ignited Telegraph Fire was discovered on July 18, 2009. Firefighters monitored the fire from the air and on the ground as it progressed naturally, clearing vegetation on the forest floor.More
Invasive Grass Fuels Treatment in WUI
In 2009, the park hired a crew of three Student Conservation Association interns to treat buffelgrass along all roads within or bordering the Tucson Mountain District of the park.More
Buffelgrass Fire Behavior Research Burn
Saguaro National Park teamed up with Tucson Water and the University of Arizona to conduct a 160-acre prescribed burn on City of Tucson land in Avra Valley on May 28, 2008.More- See also:Buffelgrass Fire Behavior Video


Interagency Management of 2008 Rincon Mountain Fires
In late June 2008 lightning started four fires in the Rincon Mountain range. These fires were seamlessly managed under shared fire management operations provided through an interagency agreement which has been in place for several years.More


Returning Natural Fire to the Rincon Mountains
The 130-acre Chimenea Wildland Fire Use was ignited by lightning on June 26, 2008. Located in the remote Saguaro Wilderness in the Rincon Mountains, the fire was within an area pre-approved for wildland fire use in the park's fire management plan. More

National Public Lands Day Volunteers Fight To Save Saguaros
Over three dozen people armed with digging bars and trash bags worked to defend the silent saguaro sentinels of the Tucson Mountain District of Saguaro National Park on National Public Lands Day, Saturday, September 29.More

National Park Service Provides Local Community of Rincon Valley Rural Fire Assistance
Working with Saguaro's Fire Management Staff, Rincon Valley Fire developed a grant request through the Rural Fire Assistance Program for 2005. The Department was awarded $5,000 through the grant process, which enabled the Department to add several pieces of important equipment to their engines.

Saguaro National Park Receives Award from Sky Islands Wildlands Network
The Fire Management Program at Saguaro National Park received special recognition from the Sky Islands Wildlands Network for exemplary efforts to protect and restore Nature. The award was given at the October 2002 Sky Island Conference. The park was presented a plaque for their great efforts in the ecologically appropriate restoration of fire to fire-prone ecosystems within the park.

The Establishment of Saguaro National Monument and its Administration: Forest Fire Policy
Chapter 4, Section F in the Saguaro National Park Administrative History Includes a historical overview of fire management policies in the area between 1912 and 1978 More