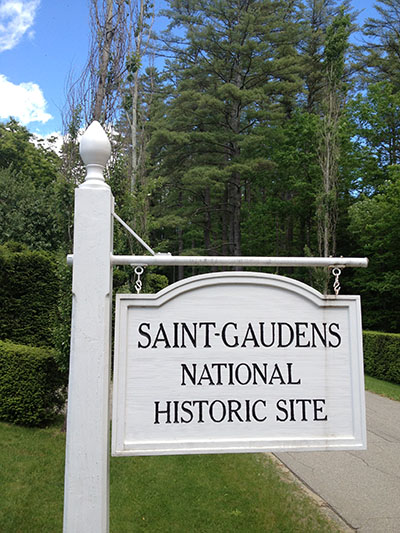 News Release Date:
June 4, 2013
Contact: Steve Walasewicz
Steve Walasewicz, Chief of Resource Management and Maintenance at Saint-Gaudens National Historic Site, recently approached Aaron Day of the Technology Education program at nearby Windsor High School, to see if the school might be interested in assisting the park with a woodworking project. The project was to reproduce a decorative wooden finial that is located atop the white entrance sign opposite the site's parking lot. The sign was installed by the Saint-Gaudens Memorial c. 1930 and, due to its historic nature, it is considered a "contributing object" on the park's official documentation for the National Register of Historic Places. As a result of the deteriorated condition of the existing finial, the park needed to produce an exact duplicate in order to maintain the historic appearance of the sign.
Aaron Day was eager to take on the project and selected a 9th grade woodworking student, Zach Simino, to reproduce the decorative finial for the park on a lathe in the school's woodworking shop. By coincidence, Zach is also a Cornish resident and has passed by the very sign that will now be adorned with his craftsmanship on many occasions. The finial was installed on the signpost, and with proper care, should remain there for many years. To further prepare the park for the future, Zach is going to produce and additional "spare" finial before the end of the school year.
Saint-Gaudens NHS is grateful to Windsor High School, Aaron Day, and, in particular, to Zach Simino for undertaking this project. According to Walasewicz, "this type of partnership project is a great fit with the National Park Service's 'A Call to Action' initiative as the NPS approaches its 100th anniversary in 2016. Among many other things, the initiative seeks to more directly involve youths and students in the stewardship of our national parks. While I have worked with many students over the years with natural resource management activities, this is the first time that I have had the opportunity to engage a high school student in a historic preservation project. This is certainly the type of partnership that I hope we can expand in the future."