Date:
August 13, 2013
Contact:
Gregory Schwarz
, (603) 675-2175
Contact:
Rick Kendall
, (603) 675-2175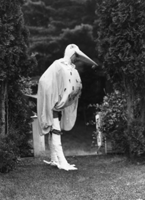 Cornish, NH and Woodstock, VT – On August 24 and 25 at 2:00 pm, the National Parks of Vermont and New Hampshire will be hosting centennial performances of the play Sanctuary: A Bird Masque, a play about bird protection.Sanctuary was first performed at the opening of the Meridan Bird Sanctuary in Meridan, New Hampshire, on September 12, 1913, with President of the United States Woodrow Wilson in attendance.These upcoming centennial performances will be held at Marsh-Billings-Rockefeller National Historical Park in Woodstock, Vermont, on August 24, and Saint-Gaudens National Historic Site in Cornish, New Hampshire, on August 25. On both days, the performances will be preceded by exhibits and demonstrations by the Vermont Institute of Natural Science (VINS), the Vermont Center of Ecostudies, Change the World Kids, and Vermont Audubonstarting at noon.Admission to both performances will be free of charge.

Cast-member Hamilton Gillett of Woodstock describes the play as a "fun, celebratory, and very visual piece." After its first 1913 performance, Sanctuary was performed with author and Cornish Colonist Percy MacKaye's encouragement by amateur theatre troupes across the country. Its popularity arose not only from its colorful bird costumes and lively verse dialogue, but from an underlying social and environmental message about the rampant hunting of wild birds for their feathers, which were used by the fashion industry in popular women's hats.

In writing Sanctuary, MacKaye's goal was to promote bird conservation through popular, non-commercial theatre. Sanctuary resonated with the dawning environmental consciousness of the time, coinciding with the growing popularity of Audubon Bird Societies and the movement to create a National Park system. Sanctuary's cause ultimately triumphed: in 1918, President Wilson would sign the Migratory Bird Act, putting an end to the "millinery murder" of wild birds.

"The message of this play is just as relevant today as it was 100 years ago," says director Kevin Fitzpatrick. "Then it was solely about bird slaughter, but now it is about larger environmental concerns. Beneath the overt message, it speaks to the ways people have of living with nature." Having been a resident of Upper Valley for the past 20 years, Fitzpatrick believes that the citizens of local communities are an ideal audience for the play."Vermont and New Hampshire are synonymous with natural beauty and defense of the environment. Ecological goals are very important to this region," Fitzpatrick said.

The play's costume designer, prop master, and music director Fern Meyers also stresses Sanctuary's connection to the Upper Valley community, speaking of its historical as well as environmental roots. "I think it's important for Americans to know about our cultural history," says Meyers, who is also the director of Saint-Gaudens National Historic Site's long-running concert series.

Historical recreation is Meyers' goal in both the design and the music of the play. The costumes are based on photographs of the original cast taken by Arnold Genthe at the 1913 performance. In preparing the music, Meyers discovered manuscripts in the Dartmouth archives of the four songs written for Sanctuary by Cornish composer Frederic Shepherd Converse. She's also arranged incidental music using other contemporary pieces composed by musicians associated with the Cornish Colony, a group Meyers calls "a generation of forgotten American composers." Much of this music has never been recorded and has been virtually unheard since the early 1900s.

The performance and exhibition are sponsored and supported by a variety of organizations in the Upper Valley including the Byrne Foundation, Meriden Bird Club, Putnam Foundation, Saint-Gaudens Memorial, James Tasker Covered Bridges Fund, Mascoma Savings Bank Foundation, Coop Food Stores, Four Seasons Sotheby's International Realty, Pentangle Arts Council, Michael Sacca Productions, Woodstock History Center, Hood Museum of Art, Cornish Historical Society, Plainfield Historical Society among others.

For more information, visit www.nps.gov/saga or www.nps.gov/mabi.
 --NPS--