National American Indian/Alaska Native Heritage Month
In November we are proud to celebrate Native American Maritime Heritage.

"Original Inhabitants Meet the First Europeans to Sail into San Francisco Bay"

Located just west of famous Fisherman's Wharf, San Francisco Maritime National Historical Park preserves the maritime history of the West Coast, particularly its sailing and steam ship history. A large area in the Visitor Center is dedicated to the story of how the original inhabitants of Northern California might have met the Spanish packet San Carlos, which in 1775 was the first European ship to sail into San Francisco Bay. Native Americans of local tribes were consulted to shape a possible narrative of the first encounter between their ancestors and Spanish colonizers. The exhibit is guided by the Native American communities' portrayal of their ancestors, and the Spanish viewpoint is taken directly from words written by Captain Juan Manuel de Ayala y Aranza and his company. The encounter between two maritime worlds is vividly displayed in the murals, recorded voices of contemporary Coast Miwok Peter Nelson and Christopher Coughlin, and story line and life-size tule boat made by Native American linguist, basket-weaver, scholar and artist Linda Yamane who is Rumsien Ohlone. Together with Andy Galvan, and Vincent Medina who are Ohlone, the Federated Indians of Graton Rancheria, and others of the Native American community, the exhibit is an expression of the descendants' continuing story and Spanish influences in the San Francisco Bay Area.
Entering the Visitor Center, at the beginning of six immersive experiences of San Francisco history, there is a sense of going through a narrow opening into a wide expanse of a bay. Lights dance on the floor, giving motion to the painted bay waters and engaging visitors with an un-intended experience of walking on water. Seabirds are heard overhead. The murals of men in tule boats paddling out to meet San Carlos are enlivened by voices calling in Machchaw Coast Miwok. Nearby within a marshland scene, a hand-made tule boat with paddle rests on shore, suggesting the fishermen have left their emptied nets and tule boat to take their catch to women who will prepare the fish in their village of Petlenuc. The men will return to their nets, clean and make repairs, lay the nets out to dry, and later they'll climb into the tule boat to reset the nets beyond the tide line in hope of catching sandy-bottom surfperch and jack smelt.
What would it seem like for the ancestors of contemporary Coast Miwok to finally see a sailing ship up close, coming through the entrance to the bay? Since the time of Juan Rodriguez Cabrillo and Bartolome (accent over "e") de Ferrer (Ferrelo) in 1542, sailors presumed from the many home fires rising from the land that the West Coast was inhabited by people, but for more than two centuries they didn't go ashore to investigate. (It is thought that Francis Drake in 1579 landed at Point Reyes to repair his ship). The sailing vessels avoided the treacherous, rocky, fog-shrouded coast as they hastened to get their cargo to port in Mexico or to re-supply after a long trans-Pacific crossing.
From the ocean, the gap between San Francisco and the Marin Headlands appears to be one continuous land mass. San Francisco Bay lay hidden from imperialists until 1769 when an overland expedition led by Gaspar de Portola (accent over "a") discovered what indigenous people had known for millennia: one of the world's largest, naturally protected harbor. If sailors could see the cooking fires, surely native peoples could see the ships not far off the Pacific coast? With their extensive network of trade and communications developed over thousands of years of occupation, is it likely the native peoples would have seen sailing ships off the coast, heard of shipwrecks to the north or heard of Portola's overland expedition that reached just south of San Francisco? How might you feel if you were on San Carlos, seeing men in tule boats approaching your ship? Or, how might you feel if you were in one of the tule boats paddling out to meet the ship?
For more information about San Carlos, watch this video on San Francisco Maritime's website: https://www.nps.gov/safr/learn/photosmultimedia/san-carlos.htm.
Want to read about California Indian maritime heritage? Follow the links below to find these books in our Library catalog, and/or in a library near you:
You might also want to check out the exhibit in the park visitor center. In one of the areas you are drawn into the lush, marshy edge of San Francisco Bay during the 1770s. A huge mural depicts a wind-swept Yelamu village and in front of it sits a tule reed canoe. https://www.nps.gov/safr/historyculture/waterfrontexhibit.htm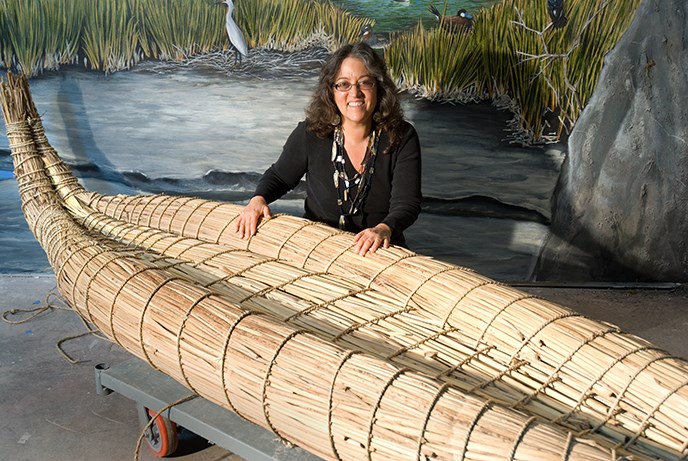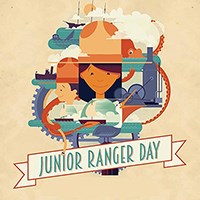 "Hi! Are you on the Junior Ranger Quest? Click
here
to return to the main page!
Last updated: April 23, 2021