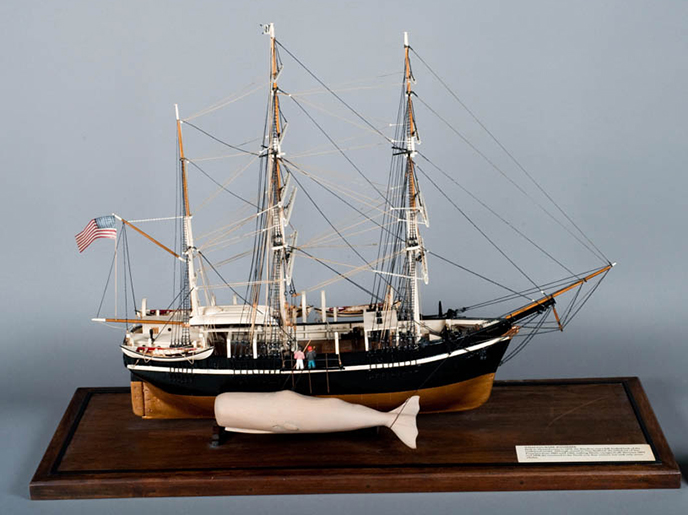 News Release Date:
August 28, 2014
Contact: Morgan Smith, 415-561-7049
Contact: Stephanie Poyant, 508-997-0046 x139
Exhibit Celebrates the Contributions of Azorean, Cape Verdean, and Brazilian Communities
Free, 10am-4pm in the Maritime Museum, 900 Beach Street, through 12/31/14
 SAN FRANCISCO, Calif. — San Francisco Maritime National Historical Park welcomes The New Bedford Whaling Museum exhibit "Yankee Baleeiros! The Shared Legacies of Luso and Yankee Whalers" to the Maritime Museum on Saturday, August 30. This free exhibition, open daily from 10am-4pm on the second and third floors of the museum, celebrates the interwoven Luso-American stories of the Azorean, Cape Verdean, and Brazilian communities in the United States from early immigration in the 18th century through the latter half of the 20th century.
US Census data suggests that three million people self-identify with Portuguese, Cape Verdean or Brazilian ancestry, while California is home to the largest Portuguese population and the fifth-largest Cape Verdean population in the US. Yankee Baleeiros! explains the Lusophone (Portuguese-speaking) migration as integral to the American story. The exhibit shows how these distinct cultures and communities – which share similar heritages and languages – were linked by the pursuit of opportunities provided by the international network of Yankee whaling on the East and Pacific coasts.
During whaling voyages in the 1800s, mariners from the Azores, Cape Verde and Madeira often joined the crews of New Bedford, Massachusetts whaling ships. New Bedford became the veritable "Portuguese Ellis Island" of North America from the time of Yankee whaling through the Industrial Revolution, as job opportunities arose and families joined the growing Portuguese communities in the area.
Starting around 1875, San Francisco was the largest homeport for American whalers, although vessels sailing out of New Bedford had visited San Francisco in the 1820s. Many whalers from Brazil left their ships to pursue the Gold Rush as well as fishing and agricultural careers, planting the seeds of California's extensive modern-day Lusophone community.
Support for this traveling exhibition is provided by the William M. Wood Foundation, the William E. Schrafft & Bertha E. Schrafft Charitable Trust, the Massachusetts Office of Travel and Tourism, the Southeastern Massachusetts Visitors Bureau, and Poyant Signs, Inc.
The New Bedford Whaling Museum is the world's most comprehensive museum devoted to the global story of whales, whaling and the cultural history of the region. The cornerstone of New Bedford Whaling National Historical Park, the Museum is located in the heart of the city's historic downtown. For more information, visit www.whalingmuseum.org.
San Francisco Maritime National Historical Park includes a fleet of National Historic Landmark vessels at Hyde Street Pier, a Small Boat Shop, Maritime Museum, Visitor Center and Maritime Research Center. The park offers regular programs and sailing tours aboard the 1891 scow schooner Alma, as well as hosts a Sea Music Festival aboard the historic ships. For more information, call 415-447-5000 or visit the park online at nps.gov/safr or facebook.com/SanFranciscoMaritimeNHP.
#  #  #  8/28/14