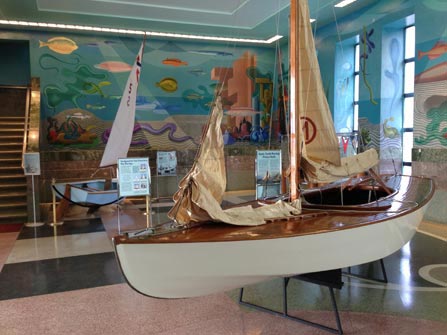 News Release Date:
July 15, 2013
Contact: Lynn Cullivan, 415-561-7006
 San Francisco – This summer, San Francisco Maritime National Historical Park's Maritime Museum celebrates the history of both San Francisco Bay racing and the America's Cup – from the free-spirited yachtsmen of the 1880s to the high-tech sailors in the Cup races today -- with exhibits, artifacts, photos, free wi-fi, and big screen TVs to augment the building's sweeping Bay views. The Park's America's Cup summer of racing exhibits are free to the public and open daily from 10am-4pm in the Maritime Museum, at 900 Beach Street, San Francisco.
In addition to displaying a rare model of the America (presented to the Cup finisher in 1851), the Museum's lobby offers Racing on the Bay San Francisco Style, an exhibition featuring real boats from the early days – the 1938 sloop Mab, and an El Toro class boat (in addition to models, trophies and burgees from local Bay clubs). Displays will include large photographs by Gilles Martin-Raget, Principal Photographer for the 34th America's Cup, and historic Bay racing photos from the Park's collection. Park Rangers and docents will host the Park's racing information center. 
San Francisco Maritime National Historical Park includes a fleet of historic ships, the Maritime Museum, a Visitor Center, the Aquatic Park Historic District, and a maritime library. The park offers both regular programs and special events. For more information, visit please www.nps.gov/safr, or call 415-447-5000. 
# # #