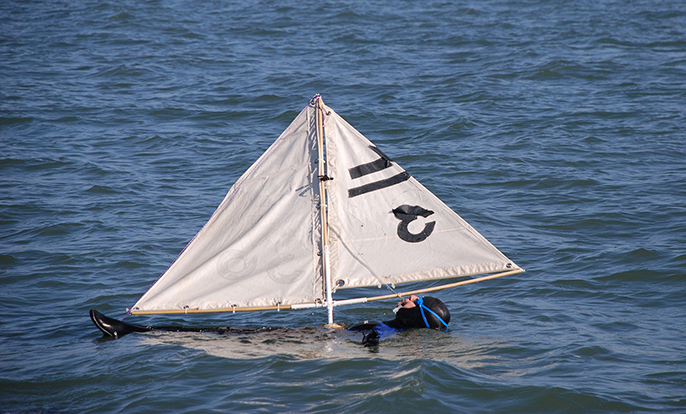 News Release Date:
February 13, 2015
Contact: Lynn Cullivan, 415-561-7006
March 7 – June 17, 2015 in the Museum Building at 900 Beach Street and Aquatic Park. Free.
A new and innovative exhibit celebrating and exploring the legacy of the arts at San Francisco National Historical Park (NHP) opens Saturday, March 7, 2015 at the park's Maritime Museum Building. The conceptual art exhibit, A New Deal: Continuing the Legacy of Maritime Art in the Park, features eight Bay Area artists and is curated by Patrick Gillespie, the Visual Arts Director of the nonprofit theatre organization We Players. Join artists and park staff for an opening reception onMarch 7 at the Maritime Museum from 12:30 PM to 3 PM, featuring light refreshments and performance artwork by Raphael Noz, who is securing a surfboard on the water. This contemporary art installation runs through Wednesday, June 17, 2015.
In the spirit of the Maritime Museum's history of artistic engagement, We Players invited local artists to produce site-specific, avant-garde works that engage maritime history, ecology, and the museum's heritage. Some pieces include audio-visual components, while others aim at the ephemeral. The Museum contains vibrant restored artwork, including colorful murals and mosaics originally created in 1939 by a group of artists as part of a joint project between the City of San Francisco and the federal New Deal Works Progress Administration (WPA) in 1939.
The Maritime Museum's history has inspired artworks that engage themes of ecology, poetry, maritime technology, political zeitgeist, and a universal sense of longing to return, and this exhibit offers an update on the issues, interests, and challenges faced by the museum's original artisans. Artists displaying work at this exhibit include Torreya Cummings, Alicia Escott, Matt Gordon, Justin Hurty, Monica Lundy, Raphael Noz, Brandon Walls Olsen and Wafaa Yasin.
The New Deal exhibit is part of We Players' five-year cooperative agreement from 2012-2017 with San Francisco Maritime NHP. On-site projects include the generation of new theatre works inspired by classical literature and Greek mythology, music concerts, dance, staged readings, visual art exhibits, conversations, and workshops. The park also serves as a "floating classroom" for We Player's aesthetic education programming, which serves youth from diverse backgrounds in neighborhoods throughout the Bay Area.
For more information and to RSVP for the opening reception, please visit: www.weplayers.org/presenting-series/a-new-deal
San Francisco Maritime National Historical Park is located at the west end of Fisherman's Wharf in San Francisco. The park includes a magnificent fleet of historic ships, Visitor Center, Maritime Museum, Maritime Research Center, and Aquatic Park Historic District. In celebration of the 100th anniversary of the National Park Service in 2016, the park seeks to connect with and create the next generation of park visitors, supporters and advocates and invites visitors to join us in celebrating the Centennial milestone. For more information, please call 415-447-5000 or visit nps.gov/safr, Twitter @SFMaritimeNPS, and facebook.com/SanFranciscoMaritimeNHP.
  ### 2-13-15