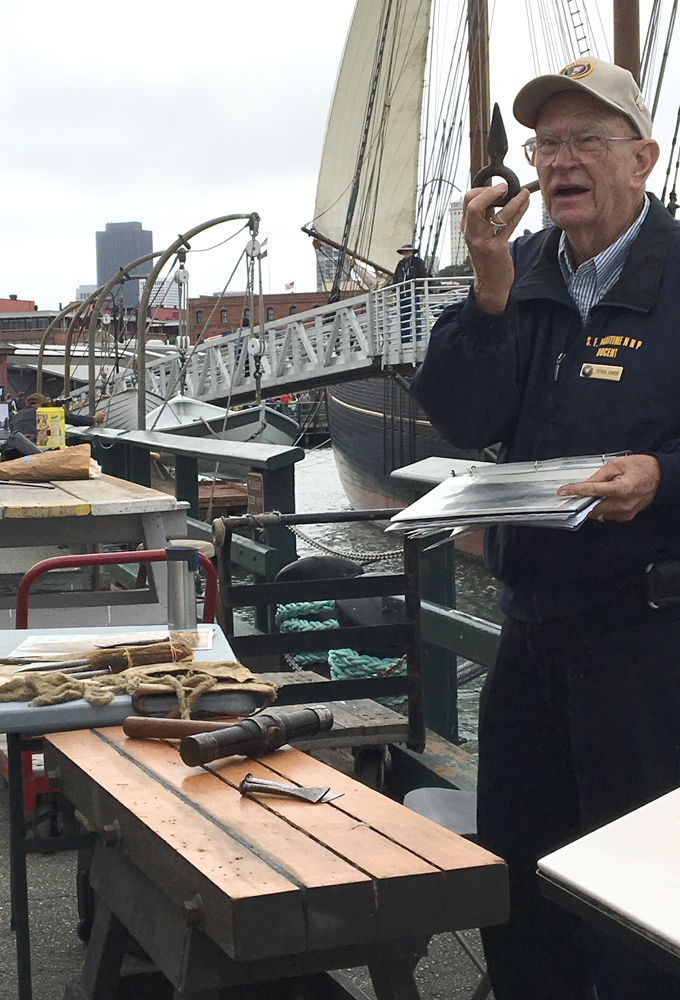 News Release Date:
April 9, 2018
Contact: Lou Salas Sian, (415) 964-8698
Contact: Terry Dorman, 415-561-7160
SAN FRANCISCO, CA – San Francisco Maritime National Historical Park (NHP) is offering a free training course for those interested in joining the park's volunteer interpretive docent program. Participants will learn the diverse stories preserved by the park's collection of authentic maritime resources (including 19th-century ships) and chart a new course as a guide and steward of this unique "floating national park."
The training on June 3rd and 5th will introduce participants to maritime history, the park's historic ships, Visitor Center, Maritime Museum, the art of presenting public programs, situational awareness, and safety procedures. Docents will also have the option to attend additional training sessions for free throughout the year, such as CPR/AED/First Aid and brown bag lunch talks delivered by staff and researchers.
Interpretive docents will have the rewarding opportunity to share their knowledge with park visitors through educational programs and informal contacts while working both indoors and outdoors on the beautiful San Francisco Bay waterfront. Volunteers at San Francisco Maritime NHP gain free access to a variety of fun and interesting park activities, including sailing trips on a historic 19th century scow schooner, maritime history presentations and field trips.
Interpretive docents are required to serve at least 10 hours per month, and to make a commitment of at least one year to the park's docent program. Scheduling is flexible and docents can serve any day of the week during park hours. If you are interested in joining our team, we invite you to read an interview which features several of our current docents discussing what keeps them engaged and committed: https://www.nps.gov/safr/blogs/good-people-doing-good-work.htm
Please contact Docent Coordinator Lou Salas Sian or Volunteer Manager Terry Dorman, e-mail us or e-mail us for an interview and to make a reservation for the free training in June. We look forward to welcoming you aboard!
Located at the west end of Fisherman's Wharf, San Francisco Maritime National Historical Park includes a fleet of historic ships, Visitor Center, Maritime Museum, Maritime Research Center, and the Aquatic Park Historic District. For more information, please call 415-447-5000 or visit nps.gov/safr, Twitter @SFMaritimeNPS, and Facebook @SanFranciscoMaritimeNHP. The Park offers assisted listening services on request. Sign Language interpreter services need to be requested at least five days in advance. Contact Accessibility Coordinator/Chief of Interpretation for more information at 415-859-6797, or safr_accessibility@nps.gov.