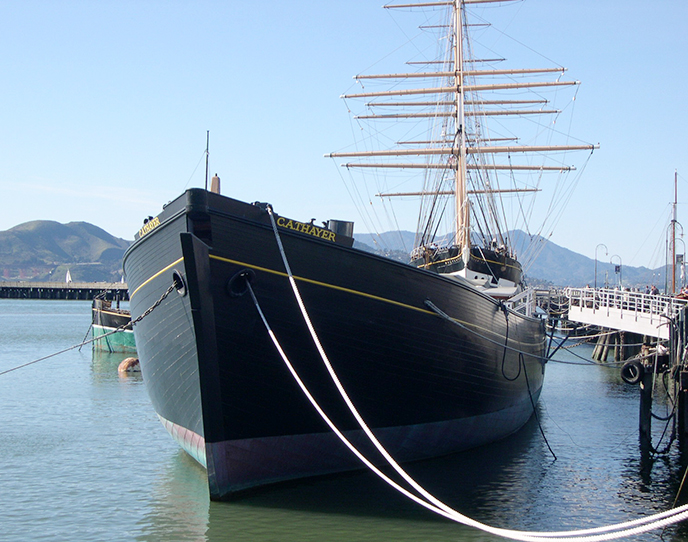 News Release Date:
October 8, 2015
Contact: Lynn Cullivan, 415-561-7006
Stepping Masts And Bending On Sails Will Complete Her Rehabilitation
National Historic Landmark C.A. Thayer Will Cross SF Bay at 8am on Thursday, October 15, 2015
 
San Francisco, CA – The final stage of the 1895 C.A. Thayer's rehabilitation will begin with a trip from San Francisco Maritime National Historical Park's Hyde Street Pier to the Bay Ship and Yacht shipyard in Alameda at 8am on Thursday, October 15. After her three new masts are stepped (installed), the National Historic Landmark vessel will return to the Park where NPS riggers will bend on a new set of sheets and make her sail-ready to mark the National Park Service's 2016 Centennial year.
"Thayer is at an exciting time in her life," said Historic Ship Rigger Courtney Andersen, leader of the Thayer rigging project. "For the first time since about 1912 she will have a rig that her builder would recognize as his own."
C.A. Thayer's builder, Hans Bendixsen, designed the vessel without "architectural" drawings, scaling her dimensions from a half-hull model, for the E.K. Wood Lumber Company of San Francisco. The 219-foot schooner spent the early years of her career carrying Douglas fir lumber from the Wood Company mill at Grays Harbor, Washington, to San Francisco and Southern California, with occasional longer trips to Mexico and the Pacific Islands.
Andersen's research into Thayer's historic rig began in 2010, and took him deep into the park Research Center's plan and photograph collections. Old shipyard contracts, mast bands, sail hanks and corner rings also helped create the schooner's new rigging plan.
After Thayer returns to Hyde Street Pier in early 2016, the public will get to watch the park's Historic Ship Riggers and volunteers complete tuning and tensioning, rattling down, and then rigging her spars and running gear.
"Saving C.A. Thayer not only preserves an important, physical piece of American history, it stewards a raft of traditional shipbuilding skills and crafts," said park Superintendent Kevin Hendricks. "And the timing is perfect to show the fourth graders (and their families) visiting us as part of the Every Kid in a Park Centennial initiative what life was like for the men and women who built this country."
San Francisco Maritime National Historical Park is located at the west end of Fisherman's Wharf in San Francisco. The park includes the fleet of historic vessels, Visitor Center, Museum, Research Center, and Aquatic Park Historic District. For more information, please call 415-447-5000 or visit us at nps.gov/safr, Twitter @SFMaritimeNPS, on Instagram at sfmaritimenps or follow us on Facebook SanFranciscoMaritimeNHP.

#  #  #

10/7/15