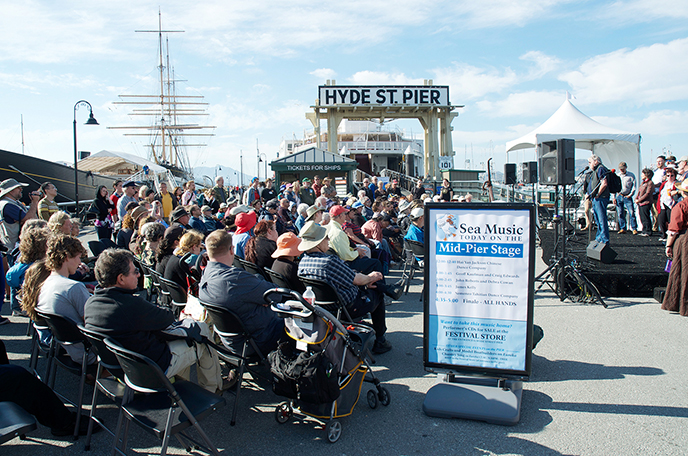 News Release Date:
July 28, 2015
Contact: Morgan Smith, 415-561-7049
SEA MUSIC FESTIVAL BRINGS SEAFARING HISTORY TO LIFE
Find Your Park With Sea Chanteys and Concertinas!
What: San Francisco's Sea Music Festival features heartfelt singing, sweet instrumentals, dance, and a day and evening of traditional maritime music from around the world. Performances on Hyde Street Pier and on board historic ships, Living History players, nautical demonstrations, and an evening chantey sing finale bring maritime history to life. Don't miss this chance to be a jolly roving tar and "Find Your Park" on San Francisco's spectacular waterfront!
When: Festival:Saturday, September 12, 2015, 9:30am – 5:00pm. Chantey Sing Finale: 7:30– 9:30pm.
Where: San Francisco Maritime National Historical Park, at Hyde and Jefferson Streets, San Francisco. Two stages on Hyde Street Pier, and performances on the 1886 square-rigger Balclutha and the 1890 steam ferryboat Eureka.
Presenter: San Francisco Maritime National Historical Park.
Cost: Free to stroll Hyde Street Pier and enjoy performances on two outdoor stages. Vessel admission fees apply for shipboard performances: $5 adults, ages 15 and under, free. Also free with national park passes and active military with current I.D. Purchase vessel admission on Hyde Street Pier. Reservations required only for evening chantey sing: please call 415-561-7171 or email peter_kasin@nps.gov.
More Info: Call 415-447-5000. Access performer photos and bios at https://www.nps.gov/safr/planyourvisit/seamusicfestival2015.htm 
Check https://www.facebook.com/SanFranciscoMaritimeNHP 
and https://twitter.com/SFMaritimeNPS for updates, and 
visit https://www.flickr.com/photos/sfmaritimenps for more photos of Hyde Street Pier and the historic ships.
Performing at the 2015 Sea Music Festival: 
Mick Moloney and Dana Lyn
The Johnson Girls
Holdstock and Macleod
Shay Black
Canciones Del Mar
Simon Spalding
Patrick Landeza
American Center of Philippine Arts
Julie Henigan 
A Thousand Years At Sea
Dogwatch Nautical Band
Salty Walt
Soraya Parker
Talitha Phililips and Michael Aho
Riggy Rackin
Joni Rueter
Jeremy Friedenthal
Richard Adrianowicz
Kathy Daskal
Billy Higgins
Val Rose, Jason Pollack and Kyle Alden
Erin Conner
Dave Nettell
Autumn Rhodes
Stephen Canright
Ed Silberman
# # #
07-27-15