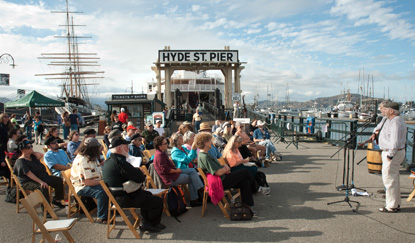 News Release Date:
August 11, 2014
Contact: Morgan Smith, 415-561-7049
What: An all-day festival of traditional and contemporary songs, instrumentals and dances celebrating maritime history and cultures, along with kids crafts, costumed Living History Players, special shipboard demonstrations, model shipwrights, and an evening chantey sing.
When: Saturday, September 13, 2014, 9:30am-5:00pm. Evening chantey sing, 7:30pm-9:30pm.
Where: On two outdoor stages and aboard historic ships at Hyde Street Pier, San Francisco.
Presenter: San Francisco Maritime National Historical Park, National Park Service.
Admission: Performances on outdoor stages on pier, free. Admission to historic ships: Adults, $5. Ages 15 and under (with adult supervision), free. Free with national park passes. Purchase tickets on day of festival from Hyde Street Pier ticket booth, located halfway along the pier.
Reservations only needed for evening chantey sing: 415-561-7171, or e-mail us.
Information and website: 415-447-5000 www.nps.gov/safr/planyourvisit/seamusicfestival2014.htm
On Saturday, September 13, join the National Park Service in celebrating the Sea Music Festival, a long-standing San Francisco tradition, at Hyde Street Pier. Enjoy music and dance from two stages on the pier and aboard historic ships. Experience the beauty of traditional dances with the Nemenzo Tahitian Dance Company, and the Hai Yan Jackson Chinese Dance Company. Hear outstanding singers of traditional sea chanteys and contemporary sea songs, with renowned singers and instrumentalists from around the country, including John Roberts and Debra Cowan, Holdstock and Macleod, Shay Black, Geoff Kaufman and Craig Edwards, Hank Cramer, and many others., Hear one of Ireland's finest fiddle players, James Kelly, with other outstanding singers and players of traditional Irish music. Specially-themed performances will include a number of up and coming young talent as well as seasoned veterans.
The festival will include a reunion of the talented park rangers who have run the park's monthly award-winning chantey sing for more than 30 years. In the evening, join the rangers and festival performers for a chantey sing aboard the historic ferry Eureka.
Shipboard hands-on demonstrations will include the Balclutha's capstan and pumps. Lend a hand and sing out on the chanteys led by festival performers! The Model Shipwrights will be on hand aboard the 1890 ferry Eureka with their fine models from 10am-noon. Kids crafts aboard Eureka will be from noon to 2pm. The park's costumed Living History Players will be roving the pier and aboard historic vessels to demonstrate maritime life in the year 1901.
Performers are as following: John Roberts and Debra Cowan, James Kelly, Shay Black, Holdstock and Macleod, Geoff Kaufman and Craig Edwards, Nemenzo Tahitian Dance Company, Hai Yan Jackson Chinese Dance Company, Hank Cramer, Amelia Hogan, Carol Holdstock, Dogwatch Nautical Band, The Lighthouse Stringband, Gibb Schreffler, Celeste Bernardo, Revell Carr, Dave Nettell, Riggy Rackin, Peter Kasin and Richard Adrianowicz, The Jammy Dodgers, Brass Farthing, Kenny Somerville, Erin Thompson, Sierra-maria Magdalena, Maggee Van Speybroeck, Michael Kahan, Erin Conner, Kathy Daskal, Steve Canright.
San Francisco Maritime National Historical Park is located at the west end of Fisherman's Wharf, in San Francisco. The park includes a magnificent fleet of historic ships, Visitor Center, Maritime Museum, Maritime Research Center, and Aquatic Park Historic District. For more information about the park and its public programs, please call 415-447-5000, or visit the park's website at https://www.nps.gov/safr                                           ###                                                      08-08-14