Aquatic Park Promenade Will Close For Construction On October 18, 2016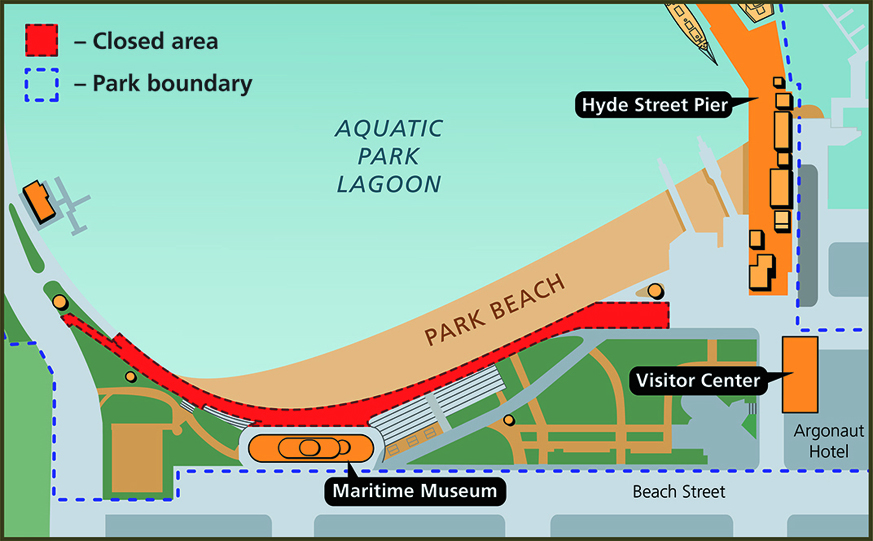 News Release Date:
October 5, 2016 Aquatic Park Promenade Will Close For Construction On October 18, 2016
Safety Improvements Will Include Removal of Railroad Tracks and Re-Paving
Visitors Will Detour Through The Park or on City Streets Until March, 2017
SAN FRANCISCO, CA –A major visitor safety improvement project at San Francisco Maritime National Historical Park will begin after the 2016 Fleet Week celebration –on Tuesday, October 18 the Aquatic Park Promenade will be closed for several months for an extensive construction project which will remove railroad tracks from the length of the Promenade, and completely repave the popular pathway. The Aquatic Park Beach and Cove will both remain open to the public throughout the project, and be will accessible from the east, via Jefferson Street. The Promenade will re-open for visitation in March, 2017.
Although all regular walkways in Aquatic Park will remain open, visitors are likely to experience crowded conditions, and should use extra caution when transiting this designed landscape. The City's designated North Point Street bicycle lane will be a good option to reach Van Ness Avenue and rejoin the waterfront route at McDowell Road. The bleachers will remain open, but will be accessible only from the south. The Museum and San Francisco Senior Center will also remain open.
The Promenade was built from 1935-1939 by the Works Progress Administration (WPA), at the same time Federal Art Project artisans created the district's tile mosaics, fantastical murals, and sculptures. When built, the gently curving pathway, which rests on historic fill (including headstones from City cemeteries), helped complete landscape architect Frederick Law Olmsted's 1866 vision of a "portal of the republic on the Pacific" at Black Point Cove.
For updates on the project's progress, search for the hashtag park's website <nps.gov.safr>, including the Around the Horn blog <go.nps.gov/AroundTheHornBlog> To learn more about the Promenade itselfhttps://parkplanning.nps.gov/promenadepavement>. For more information about the Aquatic Park National Historic Landmark district, a copy of the Cultural Landscape Report is available for download at <https://go.nps.gov/AqCLR>. In addition to the Promenade and the Aquatic Park Historic District, San Francisco Maritime NHP includes a magnificent fleet of historic ships, Visitor Center, Maritime Museum, and Maritime Research Center. 
Last updated: October 5, 2016