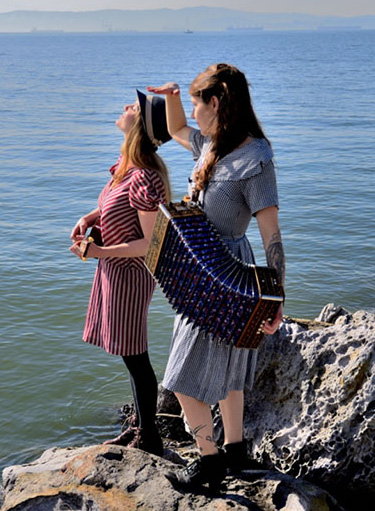 News Release Date:
October 30, 2017
Contact: Lynn Cullivan, 415-561-7006
Penny Opry Sea Music Concert Steeped In Old-Time Americana
What: A sea music concert featuring "Penny Opry," a duo who use an accordion, drums and vocals to bring maritime history to life through song.
When: Saturday, November 11 2017, 8:00pm to 10:00pm
Where: Aboard the 1890 ferryboat Eureka, berthed at Hyde Street Pier, San Francisco Maritime National Historical Park.
Tickets: $14 general, $12 San Francisco Maritime National Park Association members, purchase online at http://bit.ly/2vbB3sV or at the door beginning at 7:30pm.
Drawing from maritime folk traditions, tin pan alley, and old-time drinking songs, the duo of Joan Wilson Rueter and Rosie Steffy use an antique accordion and suitcase drum kit as a backdrop as they perform a blend of sweet yet salty vocal harmonies.