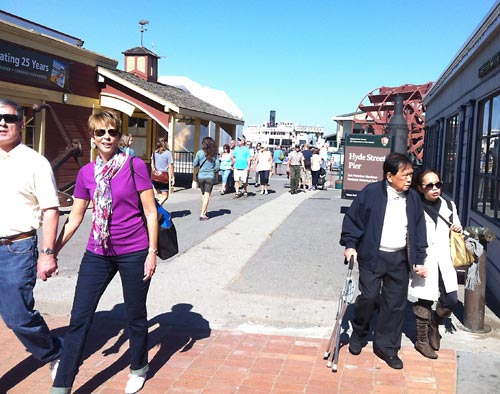 News Release Date:
October 17, 2013
Contact: Lynn Cullivan, 415-561-7006
San Francisco, CA –San Francisco Maritime National Historical Park re-opens to visitors today! Great weather makes this the perfect time to experience San Francisco's historic waterfront. Visitors can access public areas immediately; facilities and programs will be back online as soon as possible. The Park has been closed since October 1 due to the lapse in Congressional appropriations.
For traditional music lovers, we are happy to confirm that the Park's October 26 Sea Music Concert is on. The group Irish Traditions (featuring Shay Black, Amelia Hogan, and The Jammy Dodgers) will be presenting a night of Irish songs and instrumental music aboard the square-rigged ship Balclutha berthed at Hyde Street Pier. Tickets are still available from the San Francisco Maritime National Park Association's website: http://www.maritime.org/events.htm.
San Francisco Maritime National Historical Park includes a fleet of historic ships, the Maritime Museum, a Visitor Center, the Aquatic Park Historic District, and a maritime library. The park offers both regular programs and special events. For more information, stop by the park's website (www.nps.gov/safr), visit us on Facebook (https://www.facebook.com/SanFranciscoMaritimeNHP) or call 415-447-5000.

 

#   #   #