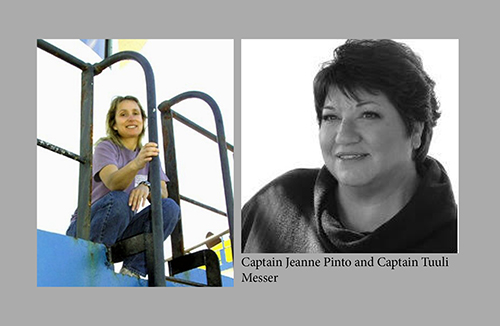 News Release Date:
March 10, 2015
Contact: Lynn Cullivan, 415-561-7006
In honor of Women's History Month this March, San Francisco Maritime National Historical Park (NHP) will host a free Women's Panel Discussion on Saturday, March 28, 2015 at 1 p.m. in the Blue Room of the Maritime Museum Building at 900 Beach Street. Join us to hear stories from six women who will share their experiences and accomplishments in maritime trades and in careers such as captain, officer, pilot, and more. Light refreshments will be served. Please RSVP at: www.eventbrite.com/e/women-in-maritime-trades-panel-discussion-tickets-16061130273 or call 415-561-6662.
Panelists:
Phyllis Gould was one of the first welders at Kaiser Shipyard during World War II. The day she started, she and her female colleagues were escorted to their work site in case of possible hostilities from male workers.
Captain Lynn Korwatch is the Executive Director of the Marine Exchange and a former merchant sea captain. She was a member of the first women's graduating class at the California Maritime Academy and the first woman to command a U.S. commercial vessel.
Captain Tuuli Messer is a professor at California Maritime Academy. She holds a U.S. Coast Guard unlimited master's license, has served in the U.S. Naval Reserves as a Lt. Commander, is educated in maritime law, and has been a deck officer, lecturer and book author.
Captain Jeanne Pinto has been a San Francisco Fire Department fireboat pilot since 2007. She worked on tugboats and was a captain for 20 years for the Oscar Niemeth Towing Company, both on San Francisco Bay.
Alice Watts began as a volunteer at San Francisco Maritime NHP in 1983. She was hired by the San Francisco Maritime National Park Association, the park's nonprofit partner, to work with the Age of Sail overnight school program and to serve as the first mate of the park's Alma scow schooner.
Captain Nancy Wagner is the first female ship pilot in the U.S., receiving her license in 1990. She was a member of the first women's graduating class at the U.S. Merchant Marine Academy at Kings Point, New York in 1978. She also served on the Board of Trustees for SFNMPA and the Tall Ship Semester at Sea for Girls.
San Francisco Maritime National Historical Park is located at the west end of Fisherman's Wharf in San Francisco. The park includes a magnificent fleet of historic ships, Visitor Center, Maritime Museum, Maritime Research Center, and Aquatic Park Historic District. In celebration of the 100th anniversary of the National Park Service in 2016, the park seeks to connect with and create the next generation of park visitors, supporters and advocates and invites visitors to join us in celebrating the Centennial milestone. For more information, please call 415-447-5000 or visit nps.gov/safr, Twitter @SFMaritimeNPS, and facebook.com/SanFranciscoMaritimeNHP.
### 3-9-15