Date:
September 17, 2009
Contact:
John Cunnane
, 415-561-7170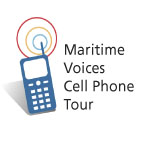 Lively tour through national park connects new audiences with maritime history.
San Francisco Maritime National Historical Park has created an innovative audio tour that allows visitors to use their mobile phones to connect with maritime history. Superbly narrated by expert park rangers, the "voyage" consists of a series of recordings that provides insights into the fantastic collection of historic ships and other resources preserved at the park. The tour also explores the lives and stories of those who worked on the sea. Park Ranger Mark Neuweld says, "Visitors have enthusiastically embraced this new portal into maritime history."
The audio tour transports listeners back in time to the era of sailing ships and steam ships; these ships were the heart and soul of California's maritime history. The tour also explores more modern issues, such as climate change.
Visitors have the freedom to choose from 28 different topics at eight stations throughout the park. The topics range from "Danger and Adventure on the High Seas" to "Swimmers in San Francisco Bay." Each recording is two to three minutes in length. Callers can listen to the recordings from any phone by dialing 415-294-6754.
The audio tour is supported by the largest mobile phone tour company in the world, "Guide by Cell." Listening to the recordings is free (except for the cost of mobile phone minutes).  Additional information about the tour is available on the park website at: https://www.nps.gov/safr/planyourvisit/cellphoneaudiotours.htm.
San Francisco Maritime National Historical Park is located at the west end of Fisherman's Wharf, in San Francisco. The park includes a magnificent fleet of historic ships, Visitor Center, Aquatic Park Historic District, and a maritime library. For more information about the park, or its public programs, please call 415-447-5000, or visit the park's website at: https://www.nps.gov/safr.   
                                                                       ###                        9/16/09