During March Celebrate Women's History Month At San Francisco Maritime National Historical Park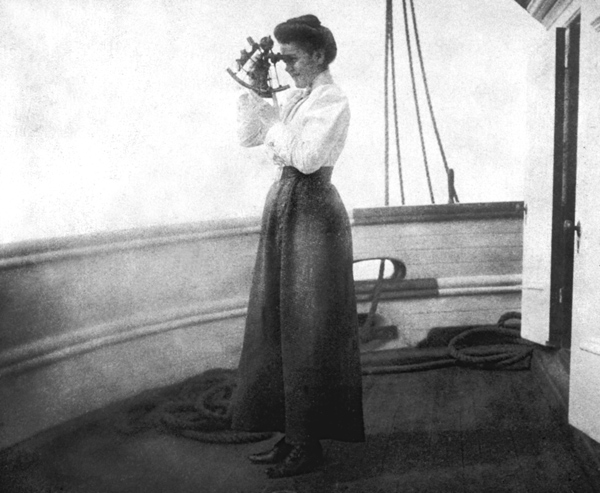 News Release Date:
February 3, 2016
Contact: Lynn Cullivan, 415-561-7006
Throughout March (specific dates below). Free admission to Hyde Street Pier, Visitor Center, and Maritime Museum. Admission for historic ships: Adults $10, Ages 15 and under free (with adult supervision). Free with national park passes and for active military with I.D.
Petticoat Progressives and Lost Masters: Women Artists of Aquatic Park 
Saturdays, March 12 and 26, 1pm, in the Maritime Museum, 900 Beach Street.
Viewed from a satellite's perspective, Aquatic Park stands out from other nearby structures along the waterfront. Discover the unique aspects of this historic district's architectural and artistic design and learn about one of the first political contests in San Francisco, which pitted the organized women's vote against the captains of industry. Rangers will also explore the "lost" women artists who worked on the Maritime Museum building for the New Deal's Federal Art Project.
Women and the Sea: A Singers' Circle
Saturday, March 19, 1-2pm, aboard Balclutha, Hyde Street Pier. Ship admission fees apply.
Join a singers' circle of songs about women and their many portrayals in maritime history and folklore. Bring songs to share in this ranger-facilitated program. 
Living History Suffragette March
Saturday, March 12, noon and repeated at 3pm, on Hyde Street Pier. Wheelchair accessible.
Turn back the clock to 1901 and experience a costumed Living History reenactment of a suffragette march in support of women's right to vote. Join the march or express your support from the sidelines!
World Storytelling Day
Sunday, March 20, 11am-3pm, in the Small Boat Shop on Hyde Street Pier.
In celebration of World Storytelling Day, storytellers, artists, musicians, park staff, and partners will take to the stage at San Francisco Maritime National Historical Park. Touching on this year's theme of Strong Women, a diverse range of storytellers will share their distinctive narrative styles, from film to chanteys to poetry. World Storytelling Day is a day set aside for people across the globe to celebrate the storytelling tradition, foster learning, share inspiration, and create connections.
Exhibit: Women Who Changed Maritime History
Throughout March, 9:30am-5:00pm, Visitor Center, 499 Jefferson Street. Wheelchair accessible.
A photo exposition of the often-overlooked impact of women on maritime history.
San Francisco Maritime National Historical Park is located at the west end of Fisherman's Wharf in San Francisco. The park includes a magnificent fleet of historic ships, Visitor Center, Maritime Museum, Maritime Research Center, and Aquatic Park Historic District. In celebration of the 100th anniversary of the National Park Service in 2016, the park seeks to connect with and create the next generation of park visitors, supporters and advocates and invites visitors to join us in celebrating the Centennial milestone. For more information, please call 415-447-5000 or visit us at nps.gov/safr. Follow us on Twitter @SFMaritimeNPS and Instagram sfmaritimenps and join us on Facebook SanFranciscoMaritimeNHP.
# # #                             2-1-16
Last updated: February 4, 2016