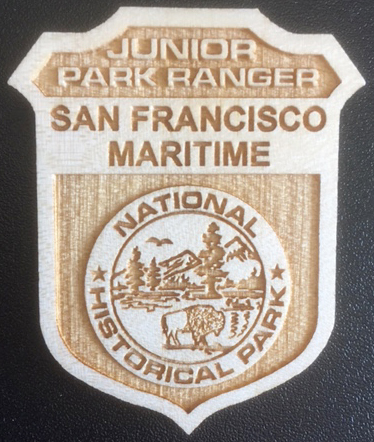 News Release Date:
March 8, 2017
Contact: Lynn Cullivan, 415-561-7006
San Francisco - San Francisco Maritime National Historical Park will host a free Junior Ranger Day event on Saturday, April 15, 2017, between 11 AM and 4 PM, geared toward children ages 5-12 and their families. Normal admission fees to board our historic ships will be waived on this day for all visitors.  
Junior Ranger Day is a nationwide event (held at different parks on different dates) that gives young visitors a chance to explore their national parks, learn skills from staff and park rangers, and earn prizes. At San Francisco Maritime National Historical Park, rangers and park volunteers will set up "Junior Ranger" demonstration stations and arts-and-craft tables along Hyde Street Pier, and aboard our historic ships, where kids can learn and practice nautical skills.  
Rangers and park volunteers will lead demonstrations and teach crafts including sea chantey singalongs, building toy wooden boats, weaving rope, and making necklaces using the signal flag alphabet to spell visitors' names. There will also be a ranger-led tour of the 1886 square-rigged ship Balclutha, and a "sailor tattoo" station (only temporary tattoos, of course!). With the San Francisco Maritime National Park Association's "Age of Sail" staff, young visitors will also learn to work as a team of sailors and lower a boat into the water and then "heave ho!" to bring it back up.  
Children who complete all activities will receive their very own cardboard park ranger hat, a certificate, and a prize, and can participate in a "swearing-in" ceremony at the end of the day.  
Junior Ranger Day at San Francisco Maritime National Historical Park kicks off National Park Week (April 15-23), with free admission days in all national parks across the country on the weekends of 4/15-16 and 4/22-23. Additional fee-free days for 2017 will be August 25 (the birthday of the National Park Service), September 30 (National Public Lands Day) and November 11-12 (Veterans Day weekend).
If you have a 4th grader in your family, this event would be a perfect time to make sure they get their "Every Kid in a Park (EKIP)" pass, if they haven't gotten one already! Through the EKIP program, all 4th graders across the country are eligible to get a free annual pass to all national parks and public lands. The annual pass (for current 4th graders) expires on August 31, 2017, so don't delay! For more information and to print out a voucher to bring to the park on Junior Ranger Day, go to https://everykidinapark.gov/how-it-works/  
San Francisco Maritime National Historical Park is located at the west end of Fisherman's Wharf in San Francisco, at the corner of Hyde and Jefferson. The park includes a magnificent fleet of historic ships, a Visitor Center, the Maritime Museum (900 Beach Street), Maritime Research Center (open by appointment in Fort Mason Center), and the Aquatic Park Historic District. For more information, please call 415-447-5000 or visit the park's website https://www.nps.gov.safr. Follow us on Twitter@SFMaritimeNHP and Instagram sfmaritimenps and join us on Facebook at SanFranciscoMaritimeNHP.