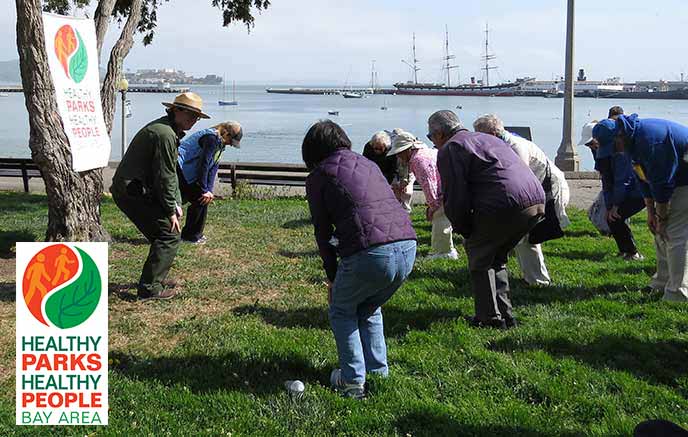 News Release Date:
July 24, 2015
Contact: Lucien Sonder, 415-561-7177
"Healthy Parks, Healthy People" WPA Mural Walk
Saturday, August 1, 2015, 10 AM-12 PM
Walk from Coit Tower, Thru North Beach, to the Aquatic Park Maritime Museum
San Francisco, CA – Join a guided art history and exercise walk on Saturday, August 1with historians and interpreters from San Francisco Maritime National Historical Park and Protect Coit Tower.  The walk starts at Coit Tower at 10 AM and will end at noon at the Maritime Museum building, in Aquatic Park, just over one mile, all downhill, one-way.
The art talk will feature the murals and decorative arts of these two 1930s WPA Federal Art Project gems—contrasting the Coit Tower's realism and pro-labor message with the Maritime Museum's fantastical-surreal undersea "Lost Continents of Atlantis and Mu" painted by Hilaire Hiler and the Art Moderne bas relief and mosaics by Sargent Johnson. Along the way, you will enjoy light stretching and a brisk walk through North Beach, one of the most colorful neighborhoods in the city.
LOGISTICS: In order to make the most of the walk, please be sure to dress comfortably, wear sneakers or walking shoes, bring a water bottle, and bring sun protection.  Please note: This downhill one-way walk will convene in the parking lot at Coit Tower (atop Telegraph Hill), and will end at the Maritime Museum (900 Beach Street.)  Participants will be responsible for getting themselves back to their car, either on foot or by public transportation, wherever they choose to park.  The 39 MUNI bus serves Fisherman's Wharf and Coit Tower. For more information on the 39 bus, see http://transit.511.org/accessible/index.aspx
Healthy Parks, Healthy People programs are on the first Saturday of each month. Healthy Parks Healthy People: Bay Area is a group started by health care providers and park guides to help San Francisco Bay Area residents explore the parks near them while improving their mental and physical health.  Find free, easy, and family-friendly walks at local, regional, state and national parks throughout the Bay Area by visiting www.hphpbayarea.org.
Protect Coit Tower (http://www.protectcoittower.org) is an organization whose mission is to preserve, protect, and educate the public about Coit Tower and its historic murals.
San Francisco Maritime National Historical Park is located at the west end of Fisherman's Wharf in San Francisco. The park includes a magnificent fleet of historic ships, Visitor Center, Maritime Museum, Maritime Research Center, and Aquatic Park Historic District. In celebration of the 100th anniversary of the National Park Service in 2016, the park seeks to connect with and create the next generation of park visitors, supporters and advocates and invites visitors to join us in celebrating the Centennial milestone. For more information, please call 415-447-5000 or visit nps.gov/safr, Twitter @SFMaritimeNPS, and facebook.com/SanFranciscoMaritimeNHP.
# # #
7-10-15