News Release
Festival of the Sea Arriving Saturday, August 18, 2018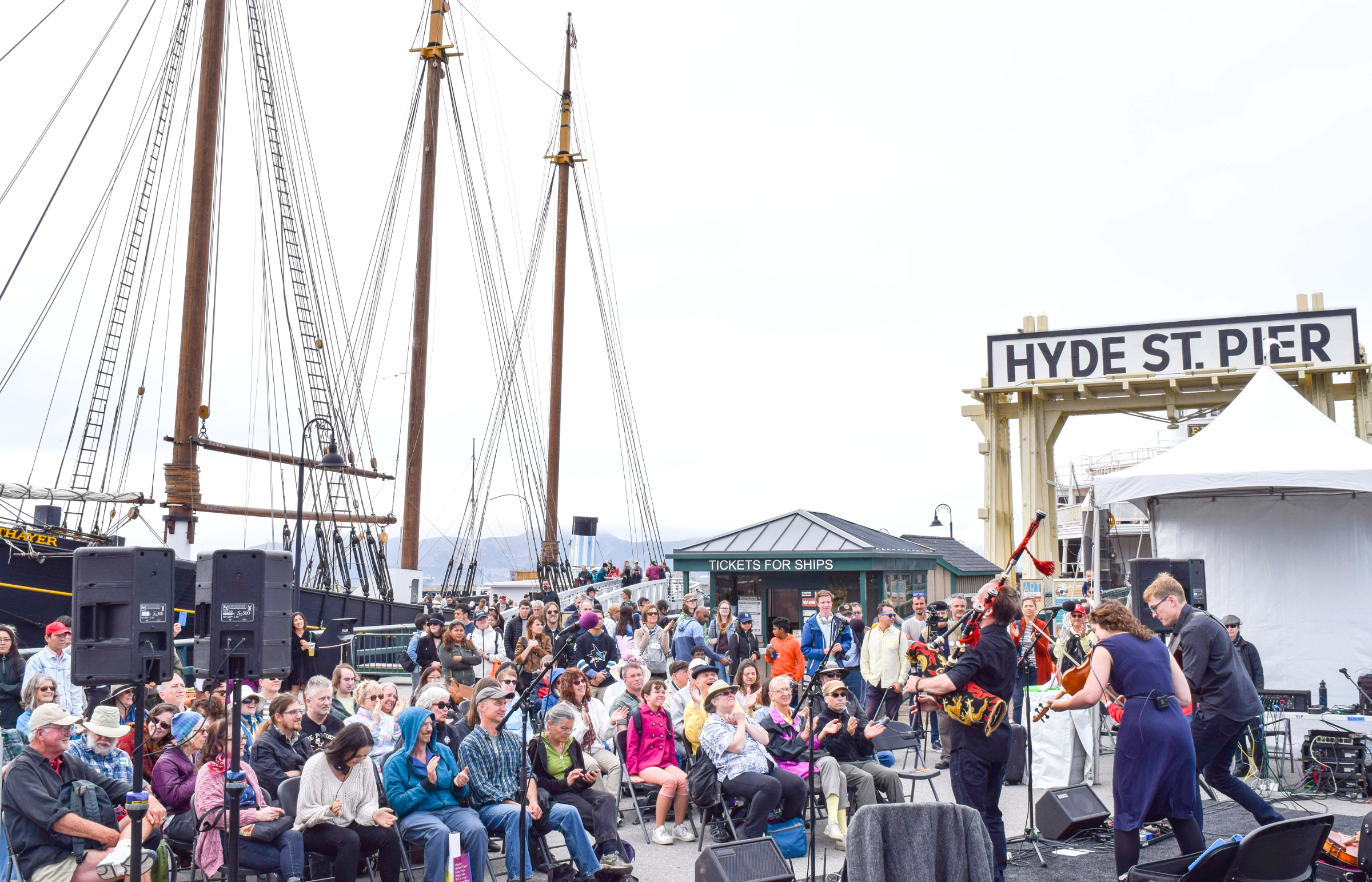 News Release Date:
June 25, 2018
Contact: Lynn Cullivan, 415-561-7006
Finding yourself, like Ishmael, with little or no money in your purse and growing grim about the mouth? Then perhaps it's time to experience San Francisco Maritime National Historical Park's free Festival of the Sea. Enjoying live, traditional music; exploring boats large and small; watching historic riggers splice and worm; and making fun, maritime crafts with your younger crew members – might be the perfect park prescription for 21st century overload. Sign on from 10am-5pm, Saturday, August 18, 2018 at Hyde Street Pier.
This year's Festival welcomes renowned performers from across the country, representing the natural diversity of America's rich maritime heritage. Ron and Natalie Daise will perform Gullah songs and stories from the South Carolina Sea Islands. Slack-key guitar master Patrick Landeza will offer a set of Hawaiian songs. The American Center of Philippine Arts Rondalla and Percussion Ensemble will perform Philippine heritage music. Shay Black (the eldest member of Ireland's "first family of song") will lead a seven-singers tribute to 22 years of singing at Berkeley's Starry Plough Irish pub's Sunday night sessions, with Kate Brubeck, Cathy Chilcott, Amelia Hogan, Jim Nelson, Laurel North, Lewis Santer, and Erin Ruth Thompson. Other festival favorites (and future favorites) include: Dave Webber and Anni Fentiman (crossing the pond from England), Julie Henigan (trekking from Missouri), Bill Dempsey (following the coast up from San Diego), Adrianna Ciccone and Colin Cotter, Felim Egan, Tim Hill and Richard Mandel, Dogwatch Nautical Band, Brass Farthing, Peter Kasin and Richard Adrianowicz, and Steve Canright.
Festival Slate of Activities:
10am-4pm:
Maritime-themed children's activities, ropemaking, and info tables crewed by local parks, environmental and history non-profits, and the Park's own Maritime Research Center aboard the 1890 Eureka. Photo banner near the shipwright shop. Tattoos (only temporary!) and face painting 
in the Kingspoke store on Jefferson Street. Learn how to caulk a deck and raise/lower a dory near the stern of the 1895 schooner C.A. Thayer.
10:30am-4pm Ongoing Forepier Stage Music
11:00am:
Sail raise aboard C.A. Thayer
11:00am-4pm: Ongoing Eureka Stage Music
Noon to 2pm:
Park riggers splice, worm, and parcel line
Noon-5:15pm: Ongoing Midpier Stage Music
12:30pm-3pm:
C.A. Thayer
Open House
1pm:
Racing in the Aquatic Park Cove
Cutter J
row at the Small Boat Dock
1-3pm:
1907 Steam Tugboat Hercules Open House
1-4pm:
1891 Scow Schooner Alma Open House at the Small Boat Dock
2:30pn:
Breeches Buoy Traditional Ship-to-Shore Rescue on the Pocket Beach.
Cutter J
row at the Small Boat Dock
About San Francisco Maritime National Historical Park
San Francisco Maritime National Historical Park, located at the west end of Fisherman's Wharf, includes a fleet of historic ships, Visitor Center, Maritime Museum, Maritime Research Center, and the Aquatic Park Historic District. For more information, please call 415-447-5000 or visit nps.gov/safr, Twitter @SFMaritimeNPS, and Facebook @SanFranciscoMaritimeNHP. San Francisco Maritime National Historical Park offers assisted listening services on request. Sign Language interpreter services need to be requested at least five days in advance. Contact Accessibility Coordinator/Chief of Interpretation for more information at 415-859-6797, or
e-mail us
.
Last updated: June 25, 2018