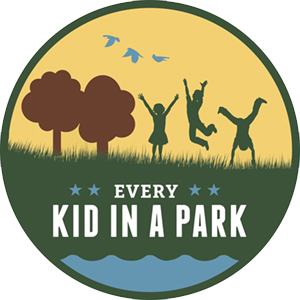 News Release Date:
September 9, 2015
Contact: Lucien Sonder, 415-561-7177
New National Program Encourages Families and Classes to Visit National Parks
San Francisco, CA – San Francisco Maritime National Historical Park invites all 4th grade students to visit the park as part of the White House's new Every Kid in a Park program. Starting September 1, 4th grade students can now go to www.everykidinapark.gov to complete an activity and obtain a free annual entry pass to more than 2,000 federal recreation areas, including national parks.
"We look forward to hosting hundreds of young visitors at our park through this national initiative," said Park Superintendent Kevin Hendricks. "These free passes will introduce 4th graders, their classes, and families to our nation's historic and natural treasures. We hope they will form memories and interests that will keep them exploring national parks throughout their lifetime."
To receive their free pass for national parks, fourth graders can visit the Every Kid in a Park website and play a game to access their special Every Kid in a Park pass. Fourth graders and their families can then use this pass for free entry national parks and other federal public lands and waters across the country from September 1, 2015 through August 31, 2016. The website also includes fun and engaging learning activities aligned to educational standards, trip planning tools, safety and packing tips and other important and helpful information for educators and parents.
In addition to providing every fourth grader in America a free entry pass for national parks and federal public lands and waters, fourth grade educators, youth group leaders and their students across the country will also participate in the program through field trips and other learning experiences. On free guided tours for school groups, park rangers at San Francisco Maritime National Historical Park ask students to imagine what life was like aboard an 1886 square-rigged sailing ship, Balclutha. Park rangers are also available for classroom visits to local schools to promote the initiative, and the park can pay for school buses to bring youth from local Title 1 schools to the park. The park's nonprofit partner, the San Francisco Maritime National Park Association, also has a number of paid education programs which always fill up quickly such as "Gold Rush," "Life on the Barbary Coast," and the ever-popular overnight program, "Age of Sail." Children who visit with their families can also enjoy a self-guided junior ranger activity and earn a badge.
The goal of the Every Kid in a Park program is to connect 4th graders with the great outdoors and inspire them to become future environmental stewards, ready to preserve and protect national parks and other public lands for years to come. The program is an important part of the National Park Service's centennial celebration in 2016, which encourages everyone to Find Your Park.
Every Kid in a Park is an administrative-wide effort, launched by President Obama, and supported by eight federal agencies, including the National Park Service, the Army Corps of Engineers, Bureau of Land Management, Bureau of Reclamation, Department of Education, Fish and Wildlife Service, Forest Service, and National Oceanic and Atmospheric Administration.
San Francisco Maritime National Historical Park is located at the west end of Fisherman's Wharf and includes a fleet of historic ships, Visitor Center, Maritime Museum, Maritime Research Center, and the Aquatic Park Historic District. Join us in celebrating the Centennial milestone in person, by telephone 415-447-5000, online nps.gov/safr on Twitter @SFMaritimeNPS, and on Facebook facebook.com/SanFranciscoMaritimeNHP
# # #
9-8-15