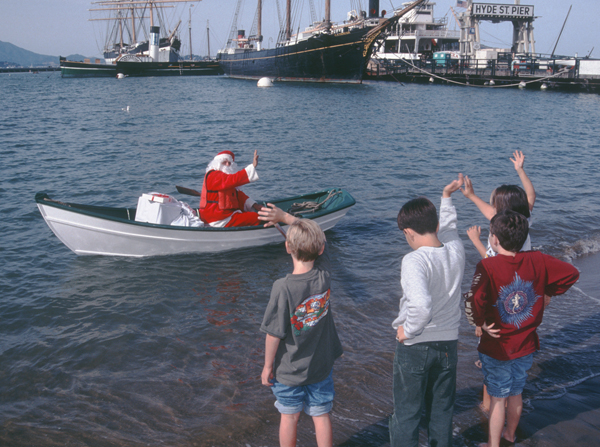 News Release Date:
November 9, 2015
Contact: Lynn Cullivan, 415-561-7006
Saturday, December 12, 2015, 3-4:45 PM Aboard the Square-Rigger Balclutha
Adults: $10 (Free with National Park Pass), Kids 15 and Under: Free (with Adult Supervision)

Bring the whole family to San Francisco Maritime National Historical Park on Saturday, December 12, 2015 for a festive event celebrating the winter holidays. "Celebrations at Sea," will take place aboard the 1886 historic sailing ship Balclutha from 3- 4:45 PM, and will feature live music, refreshments, ornament making, story time, and a visit from a nautical Santa Claus. No reservations are required for this event.

The Dogwatch Nautical Band starts the festivities at 3 PM, performing traditional sea chanteys with a holiday twist. After the band's performance, visitors can listen to a park ranger read maritime-themed stories and holiday stories from different cultures. Children of all ages can participate in ornament-making activities and enjoy refreshments, as well as tell their wishes to Santa Claus. The jolly fellow in a red coat arrives at 4:20 PM and will listen to children's wishes until the program ends at 4:45 PM.

Following "Celebrations at Sea," the park is hosting the Hyde Street Living History Players' annual "Old-Time Maritime Christmas," an evening event which requires reservations. For more information about "Old-Time Maritime Christmas," and to make reservations, please call 415-447-5000.

If your group includes a fourth-grader who hasn't signed up for a free "Every Kid in a Park" annual pass, this would be a great opportunity for him/her to complete the fun exercise at https://www.everykidinapark.gov and then redeem the certificate at the Hyde Street Pier fee booth. (Hint: adults accompanying a fourth grade pass holder also get in free!)

San Francisco Maritime NHP is located at the west end of Fisherman's Wharf in San Francisco. The park includes a magnificent fleet of historic ships, Visitor Center, Maritime Museum, Maritime Research Center, and Aquatic Park Historic District. For more information, please call 415-447-5000 or visit the park's website https://www.nps.gov.safr. Follow us on Twitter @SFMaritimeNPS and Instagram sfmaritimenps and join us on Facebook SanFranciscoMaritimeNHP.
#  #  #

11/5/15