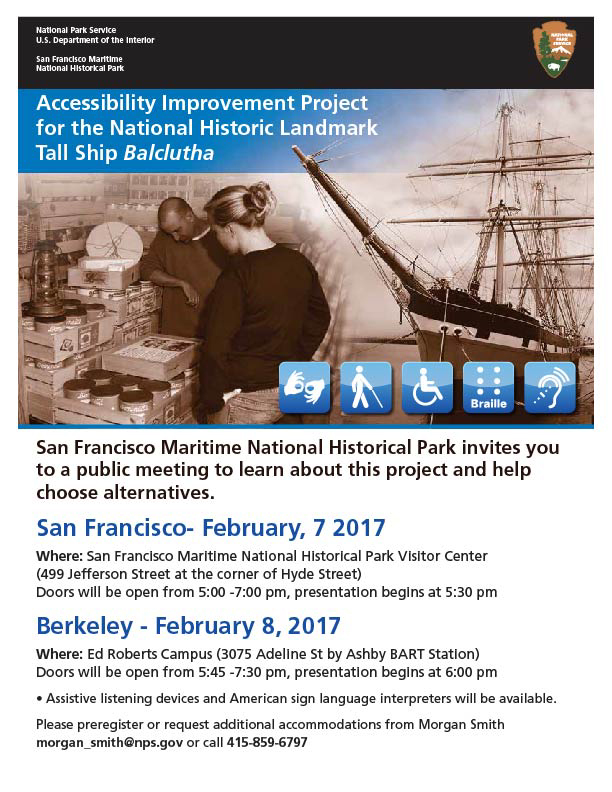 News Release Date:
January 13, 2017
Contact: Lynn Cullivan, 415-561-7006
Join San Francisco Maritime National Historical Park for Public Meetings
to Improve Accessibility on the Museum Ship Balclutha
The square-rigged sailing ship
Balclutha
, originally designed to carry cargo, is now a floating museum at Hyde Street Pier that welcomes tens of thousands of visitors a year. The narrow staircases, small bulkhead doors and overhead lines create barriers for many people visiting the vessel.  
San Francisco Maritime National Historical Park invites you to a public meeting to learn about this project and help choose alternatives. The project will cover a path from the visitor's arrival and orientation to historic interpretation aboard the vessel. Improvements may include a new gangway, lifts to multiple decks, audio descriptive tours, and tactile models.  
San Francisco Maritime National Historical Park welcomes the community with two open house meetings at different locations. The meetings will consist of a formal presentation followed by group discussion and feedback.  
San Francisco
Tuesday February 7, 2017.
Where: San Francisco Maritime National Historical Park Visitor Center (499 Jefferson Street, at the corner of Hyde Street). Doors will be open from 5:00 -7:00pm, presentation begins at 5:30pm.  
Berkeley
Wednesday February 8, 2017.
Where: Ed Roberts Campus (3075 Adeline Street, above Ashby BART Station). Doors will be open from 5:45 -7:30pm, presentation begins at 6:00pm.  
Assistive listening devices and sign language interpreters will be provided. To request additional accommodations contact Morgan Smith, morgan_smith@nps.gov or call 415-859-6797, at least seven days before the meeting.  
San Francisco Maritime NHP, located at the west end of Fisherman's Wharf in San Francisco, includes a magnificent fleet of historic ships, Visitor Center, Maritime Museum, Maritime Research Center, and the Aquatic Park Historic District. For more information, please call 415-447-5000 or visit https://www.nps.gov/safr. Follow us on Twitter @SFMaritimeNPS and Instagram sfmaritimenps and join us on FB @SanFranciscoMaritimeNHP.